"Cue The Band!" 10 Great Cameos By Musicians On TV Comedies
7 March 2018, 10:17 | Updated: 4 May 2018, 11:55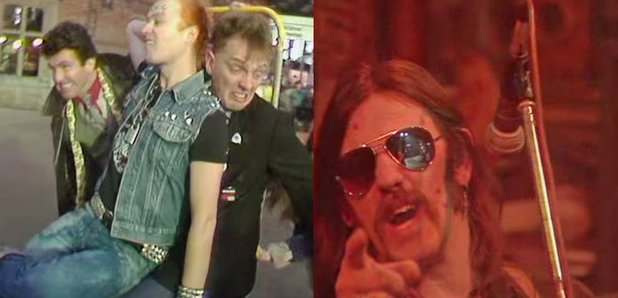 Comedians would love to be musicians. Musicians like to try their hand at comedy. Let's look at some of the times the two worlds have collided.
Motorhead appear in The Young Ones' living room
The anarchic 80s comedy starring Rik Mayall and Adrian Edmondson used to feature a band every week, and for the famous "Bambi" episode it was Vyvyan's favourite Motorhead. Lemmy yells Ace Of Spades into the mike, while Scumbag College catch a train to Manchester to appear on University Challenge.
George Harrison gets into the picture in Monty Python's Life Of Brian
The Quiet One bailed out the Pythons when funding for their 1979 religious comedy fell through - he set up Handmade Films and funded it himself as he was such a fan of the comedic crew. As a thank you, the Beatle was given a cameo as "Mr Papadopoulos, owner of The Mount", where the hapless Brian would apparently be making an appearance in his new role as an unlikely Messiah.
Gary Numan appears from a cupboard The Mighty Boosh
Vince (played by Noel Fielding) is in a bad mood. His mate Howard (played by Julian Barratt) tries to cheer him up in the only way he knows how - he wheels on his hero Gary Numan!
Aerosmith enter the Wayne's World basement
Steven Tyler and his wild men of rock famously appeared in the movie Wayne's World 2, but their connection with Wayne and Garth goes back to an appearance on Saturday Night Live. Is that Tom Hanks in there, too? No way! Way.
David Bowie composes "Chubby Little Fat Man" for Ricky Gervais
Who says dreams can't come true? Gervais is a huge Bowie fan, but he held it together when Ziggy came and played piano for a bit in his Extras series. The product: one cringeworthy song.
"You know Father Cavanagh, and this is Father Brian Eno"
Blink and you'll miss him, but the former Roxy Music member and producer of such rock behemoths as Bowie and U2 makes a very brief cameo in the final episode of Father Ted.
The Ramones on The Simpsons
"Ah, these minstrels will sooth my jangled nerves." So many, many great cameos from this show, but this still remains our favourite. "Have The Rolling Stones killed."
Marilyn Manson roller-skates through a scene in Eastbound And Down
Wait, that face kind of looks familiar…? This American sporting comedy had a very brief cameo from the God Of Fuck - if you recognised him without the slap, of course,
"Hi, I'm Prince. So, what seems to be the problem?"
The Zooey Deschanel vehicle New Girl bizarrely featured the late Purple One in an episode where he gives the titular girl some advice. On love, obviously. The show aired right after the 2014 Superbowl to a huge audience.
Ringo Starr and Lulu guest on Monty Python's Flying Circus
Many episodes of Python would open with Michael Palin as the "It's Man", a ragged, desperate character, who would struggle towards the camera, avoiding various obstacles before addressing the camera. He'd only ever get as far as uttering one word - "It's…" - before the titles would kick in. What would a chat show presenter by this poor soul look like? And who would be his celebrity guests?