WATCH: Game Show Contestant Thinks Jack White Is Eminem
12 January 2018, 17:43 | Updated: 12 January 2018, 17:59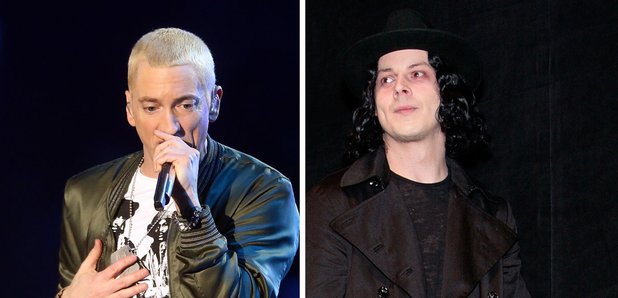 Viewers were left amused when a photo of The White Stripes rocker led to a massive fail on an American quiz show.
A gameshow contestant left viewers tickled after she mistook Jack White for Eminem.
A picture of the White Stripes rocker was shown on US quiz show, Jeopardy!, along with the clue: "A recent vinyl resurgence has been aided by this musician, who built a pressing plant in his Detroit hometown."
But the gameshow, which requires contestants to provide their answers as questions, took a funny turn when a contestant Julie buzzed in and said: "Who Is Eminem?"
Watch the moment here:
This lady thought Jack White was Eminem. Second time I've died in two weeks watching this show. #Jeopardy pic.twitter.com/Vh7gPdhnol

— Tim King (@_timothyking) January 12, 2018
Luckily order was soon restored when her competitor Rebecca answered correctly.
While it's pretty random to mix up the two artists, Julie can be forgiven for not being a fan of music. Plus, with the US rapper actually being Detroit-based, you could even congratulate her for making an educated guess...
... Which is more than can be said for what will always be dubbed the most stupid answer in the history of game shows ever.
Remind yourself of that moment on Pointless here:
Meanwhile, Jack Black unveiled his comeback single this week, and revealed why he had to change the title slightly so people wouldn't think of STDs.
The 42-year-old musician shared the video for Connected by Love, his first song from his forthcoming third studio solo album Boarding House Reach.
Watch the video here:
Speaking Rolling Stone, he revealed: "I thought 'Well, people won't get that metaphor - they'll turn that into, 'Well, do you have an STD, or something?'
"It might hurt the rest of the messages of the song if I kept that as the main thing. So I changed 'Infected' to 'Connected' and then started to feed off of that."
The rocker also shared new B-side Respect Commander, which you can listen to here:
Photo credit: Eminem: Frederick M. Brown/Getty Images Jack White: Photo by Malcolm Taylor/Getty Images