The Rockin' 1000 Covered The White Stripes, And It Was Way Better Than A Football Chant
1 August 2016, 10:30 | Updated: 1 August 2016, 11:14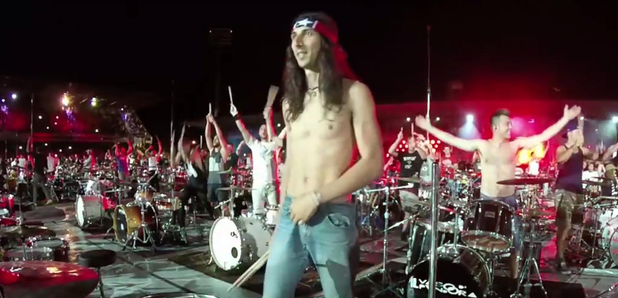 The troupe of musicians performed for That's Live 2016 at Orogel Stadium in Cesena, Italy.
Remember when a group of Italian musicians under the name the Rockin' 1000 got together for an epic cover of Foo Fighters Learn To Fly?
Well, now they've taken on The White Stripes' Seven Nation Army at a local festival in their hometown of Cesena, Italy - and totally nailed it.
Watch their video, uploaded by Lorenzo Setti, below:
More like a thousand nation army, then?
The troupe of bassists, drummers, guitarists and vocalists also performed an epic rendition of Nirvana's Smells Like Teen Spirit.
See them in action here:
The artists - who have become famous in their own right - first came to our attention when they performed the Foo Fighters track, Learn To Fly, in a bid to get the band to play their city.
After winning the hearts and minds of the people of the internet, the Rockin' 1000 not only got their gig, but got to hang out with the band afterwards.
Dave Grohl and the band visited Cesena, playing a whopping 27-song, career-spanning set, included covers, which they played with some of the Rockin' 1000 members.
And if that wasn't impressive enough, Dave and the boys headed to the afterparty.
The Foos're here. #rockin1000 After Party. This's so Unbeliavable. pic.twitter.com/gQskVOe8dE

— Rockin'1000 (@rockin_1000) November 3, 2015
Epic!
But the love between the band and the Rockin' 1000 didn't stop there. When the Foos returned with their Saint Cecilia single and EP, they upped the ante, with a performance featuring musicians from "all over the world," while holding up signs which read "I RULE" and "I AM NOT DONE."
Class.