Jeremy Corbyn Chant Increases Seven Nation Army Streams
2 July 2017, 08:00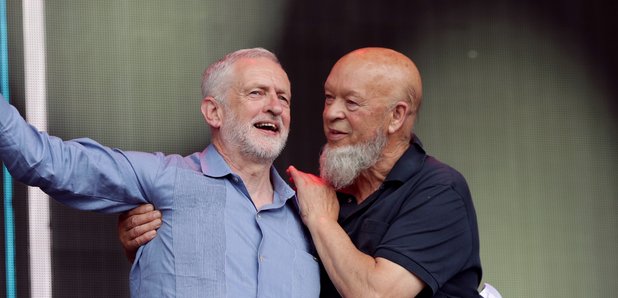 The chant, which was heard throughout Glastonbury Festival last weekend, has reportedly sent music fans flocking to The White Stripes' original.
Glastonbury Festival is known for adopting particular trends each year, and this year's undeniably saw "Oh Jeremy Corbyn" chanted wherever you went to the tune of The White Stripes' Seven Nation Army.
But, it seems the Labour Leader isn't the only one feeling the love from the festival, since the track has seen its streams go up since the event.
As The Independent reports, Deezer has witnessed a 16,893% in streams of the original track from The White Stripes' song, seeing the 2003 Elephant track receiving 168 times as many streams as the day before - following Glastonbury weekend.
Jeremy Corbyn took to the Pyramid Stage with Michael Eavis at the festival, introducing Run The Jewels and giving speech in front of record crowds.
Watch the moment in our video:
Corbyn told the crowd: "I want to say thank you to Michael for lending us his farm, for giving the space all those years ago, for people to come here and enjoy music, enjoy good company and enjoy inspiring thought. Michael, you've paved the way for the space for all of us.

"You brought the spirit of music, you've brought the spirit of love, you've brought the spirit of ideas. And you've brought the spirit of great messages."

Pointing the the perimeter fence at the back of the Green Fields, Corbyn went on: "And if you can see that far, look on the wall right over there, that surrounds this wonderful festival.

"There's a message on that wall for President Donald Trump. And do you know what it says?

"Build bridges, not walls!"
It's thought that the crowd for Jeremy Corbyn was one of the biggest to congregate at the Pyramid Stage in Glastonbury history and people were still making their way out of the area a full 20 minutes later.