Two Door Cinema Club Compare Brexit Result To Michael Jackson's Death
24 June 2016, 17:44 | Updated: 24 June 2016, 18:04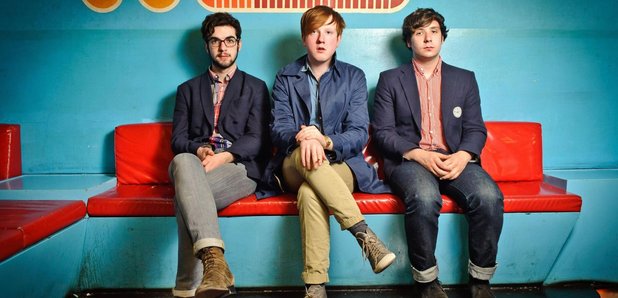 Two Door Cinema Club have compared waking up to the result of the E.U Referendum to hearing about Michael Jackson's death at in 2009.
Radio X spoke to two thirds of the Northern Irish band ahead of their set at Glastonbury's Pyramid Stage, where they described their shock and disbelief at the news.... and compared it to the rumours that swirled around the festival the weekend that the King Of Pop died.
Frontman Alex Trimble and guitarist Sam Halliday said: "[We were] saying earlier about Michael Jackson - the rumours of him being dead came about last time we were here in Glastonbury and it was one of those things, we were like, 'That can't be true, no way'.
"And it's the same feeling this morning. It hasn't quite sunk in."
Speaking of the Referendum result, the pair said: "It's a real disgrace. The older generation have screwed us over here.
"How many people do you know who have been studying abroad and lived in Germany or whatever for a year and had a great time? Just the thought of ourselves or our kids not getting the chance to do that..."
Watch the band playing the Pyramid Stage below:
This week, the band also confirmed they would feature on the upcoming Glastonbury live album, which is dedicated to the memory of MP, Jo Cox.
Proud to announce our involvement with @OxfamGB Presents: #StandAsOne Glastonbury Live 2016 https://t.co/LsbQaexNIK

— Two Door Cinema Club (@TDCinemaClub) June 21, 2016
Oxfam Presents: Glastonbury Live is set for release on 11 July.
Talking about their return after a three-year-hiatus, the Sleep Alone outfit said: "It feels exciting again, we've got a new record and we're just having fun now - which is kind of a new thing for us.
"We didn't have a lot of fun toward the end of the last time, because we kind of just slogged it out for so long."
Speaking about their new Gameshow album, they teased "laid-back" disco and psychedelic influences, adding: "There's a lot of stuff from all over the place. We listened to a lot of Prince in the studio. A lot of Bowie."
Listen to the audio for Two Door Cinema Club's new single, Are We Ready? (Wreck), below: