Watch Fans Lose It As Richard Ashcroft Plays Bitter Sweet Symphony
3 July 2017, 17:26 | Updated: 3 July 2017, 17:45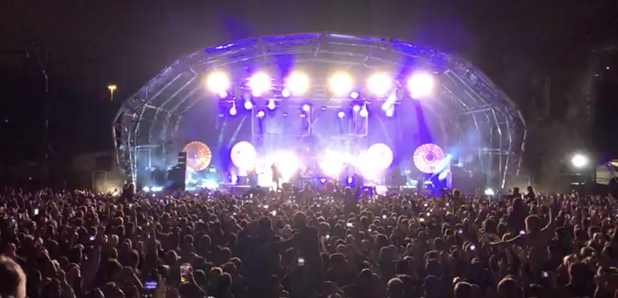 See The Verve legend delight the crowds at Castlefield Bowl for Sounds Of The City 2017.
Richard Ashcroft played a triumphant gig at Manchester's Sounds Of The City Festival last Friday (30 June).
Donning an I love Manchester t-shirt, The former Verve frontman played Castlefield Bowl with support from Lee Scratch Perry and The Sherlocks, treating the crowd to a variety of hits from across his career.
Watch him perform The Verve favourite, Lucky Man, below:
Arguably, the most exciting part of the evening came when Ashcroft played Bitter Sweet Symphony, The Verve's anthem from their 1997 Urban Hymns album.
See the crowd go mental when hearing the intro to the track here:
Watch Ashcroft's stomping end to the song and the night below:
Video and Photo credit: Jon Mo
See his full setlist courtesy of setlist.fm:
1. Out of My Body
2. Sonnet
3. Space and Time
4. This Is How It Feels
5. A Song for the Lovers
6. Velvet Morning
7. Science of Silence
8. Break the Night With Colour
9. They Don't Own Me
10. Music Is Power
11. Lucky Man
12. Weeping Willow
13. These People
14. The Drugs Don't Work
15. Hold On
16. Bitter Sweet Symphony