"Trump Will Kill America" Found Etched On The Smiths RSD Vinyl
24 April 2017, 08:00 | Updated: 24 April 2017, 17:55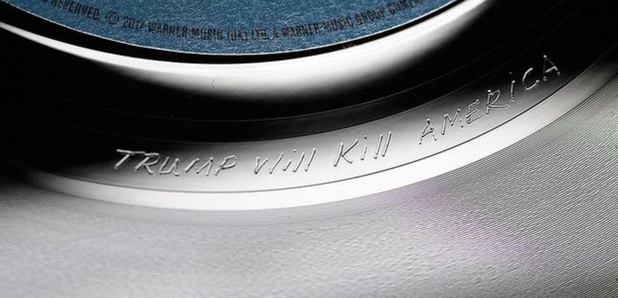 Fans who bought the special 7" release on Record Store Day were surprised with a political message inside.
The Smiths fans were given a hidden surprise when they bought the band's special Record Store Day release this Saturday (25 April).
The Boy With A Thorn In His Side 7" vinyl - which included two previously unreleased tracks from the Manchester band - also contained a bonus hand-etched message.
See tweets from fans who were lucky enough to get their hands on a copy here:
Hard to see but the Smiths vinyl is hand-etched with "Trump will kill America". Word. pic.twitter.com/oO1dBq2E1O

— Sarah (@sarahbuddery) April 22, 2017
The words "Trump Will Kill America" have been found etched on #TheSmiths "The Boy with the Thorn in His Side" single for Record Store Day. pic.twitter.com/XlJRqndhl0

— Classic Alternative (@altclassic) April 23, 2017
The message "Trump Will Kill America" was found etched onto The Smiths vinyl released for Record Store Day. #TheSmiths #Trump pic.twitter.com/IhuvRagAa8

— Lemonbeats (@LemonbeatsCHNL) April 23, 2017
#TheSmiths - Boy With The Thorn 7"
Etching on the runout is »TRUMP WILL KILL AMERICA«#RSD17 #Morrissey pic.twitter.com/96WW1VJPur

— List Of The Lost (@listofthelost) April 22, 2017
While the vinyl was available in the UK, the political statement was clearly intended to reach fans across the pond.
Although no comment has been made by the former Smiths bandmembers about the stunt, both Morrissey and Johnny Marr have been known to slam the U.S President in the past.
In June last year, Morrissey criticised Trump for his comments surrounding the Orlando shooting, while Johnny Marr offered a pretty savage alternative to the presidential candidate in October.
A good alternative to Donald Trump for President of the United States : Any reasonable 12 year old child.

— Johnny Marr (@Johnny_Marr) November 8, 2016
Photo: Twitter