Morrissey hits out at President Obama Thanksgiving turkey stunt
27 November 2013, 10:43 | Updated: 22 April 2014, 17:55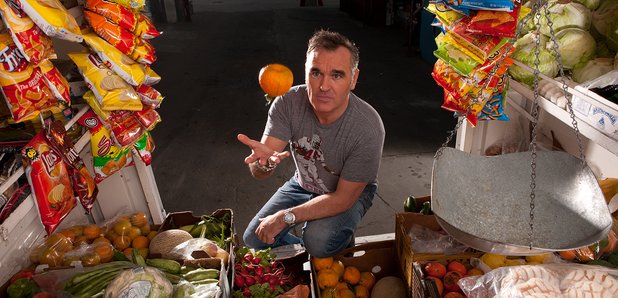 Morrissey has condemned President Barack Obama over the premier's annual Thanksgiving "turkey pardon", claiming the meat industry is "viciously cruel and environmentally irresponsible".
The "turkey pardon" is a tradition that dates back to John F. Kennedy, but became an annual event under George Bush in 1989. A bird is presented to the premier every year by the National Turkey Federation and is "spared" execution.

However, the fiercely vegetarian Morrissey has hit out at Obama, who this year is running an online vote over which bird gets the pardon this year… and which one is killed.

In a statement on the fan site TrueToYou.net titled "Thankskilling", the singer raged against the President's apparent trivialisation of the meat industry:

"Please ignore the abysmal example set by President Obama who, in the name of Thanksgiving, supports torture as 45 million birds are horrifically abused; dragged through electrified stun baths, and then have their throats slit. And President Obama laughs. Haha, so funny!"
The former Smiths frontman then quoted statistics that turkey meat is one of the nation's top killers thanks to the animal fats it contains.
He went on to condemn the industry for being responsible for "51% of human-caused greenhouse-gas emission, therefore the embarrassingly stupid White House 'turkey pardon' is open support for a viciously cruel and environmentally irresponsible industry."
Thanksgiving takes place in across the United States and Canada on Thursday 28 November.