Bono Helped Brandon Flowers With Writer's Block
22 September 2017, 12:07 | Updated: 22 September 2017, 14:45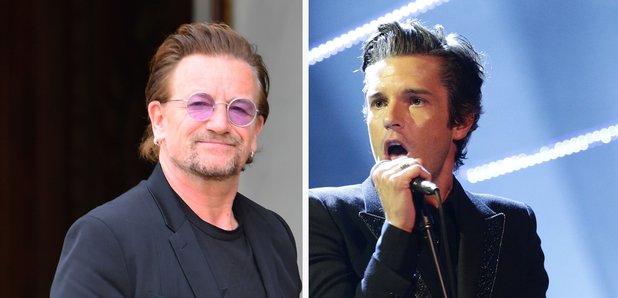 The frontman has revealed how he turned to the U2 singer "for guidance" when writing The Killers' new Wonderful Wonderful LP.
Brandon Flowers went to Bono for advice on writer's block, and the U2 frontman ended up titling a track on their new album.
The Killers frontman had a dry spell when writing lyrics for the band's Wonderful Wonderful LP, but after he visited Bono who asked "Have All The Songs Been Written?" he got his songwriting-mojo back.
In an interview with The Sun, the Run For Cover singer recalled: "It was frustrating. I remember hearing people talk about losing it. And as I've been pretty prolific, it was strange to feel like that.
"I felt lost but I just pushed through. I've always been hard-working, that's one of my attributes. I've a strong work ethic and so I sat at the piano and didn't give up.
"And Bono is someone I would look to for guidance.
"We don't see each other that frequently but he has had a lot of experience and has gone through things I go through."
Their Brixton show also saw The Hunger Games actor Woody Harrelson appear on stage as a surprise guest, joining them for The Calling- a track from the new album he features on.
Watch it here:
"Getting Woody to join us was cool," said Flowers. "It is not something that you can ever really anticipate happening.
"He is such a great guy and phenomenal actor. You can tell he is just a generally good dude."
Drummer Ronnie Vannucci Jr. added: "He's a busy guy. He actually did that recording for the album in a trailer on location in Italy.
"He's here filming a movie so we told him we were in town and asked if he wanted to do that song live. And he did."
Watch The Killers frontman talk about their secret Glastonbury gig this year:
Photo credit: Bono: PA/Christian Liewig/ABACAPRESS.COM Brandon: Yui Mok/PA Archive/PA Images