The 10 best songs by The Killers
14 November 2020, 18:30 | Updated: 28 May 2021, 08:07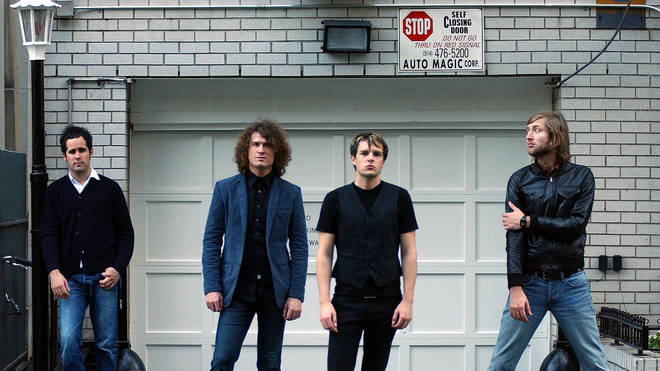 Want to get into The Killers but don't know where to start? Here are the ten songs every playlist should have.
When The Killers burst onto the scene in early 2004, British music fans were impressed by their Anglocentric sound and impressive songwriting. Once the world had caught sight of the band in person, it was obvious that the world had a major new frontman in Brandon Flowers.
Across the course of six albums, culminating in 2020's Imploding The Mirage, The Killers have paid tribute to their British musical heroes - New Order, The Smiths, Pet Shop Boys - while remaining true to their roots in Las Vegas, Nevada.
Here are ten of the best Killers tunes, right back to the days of Mr Brightside and Hot Fuss. Is YOUR favourite on here?
Mr Brightside

This eternally popular indie dancefloor banger continues to be a favourite among Killers fans and general music lovers alike. Which is incredible, as it was the band's first ever single back in September 2003.

All These Things That I've Done

"When there's nowhere else to run, is there room for one more son?" One of the highlights of Hot Fuss, the debut album by The Killers, is this epic, stirring anthem.

Read My Mind

The dreamier, more romantic side of Brandon Flowers, this lush pop song comes from the band's second album, Sam's Town, released in 2006.

When You Were Young

The lead single from The Killers' second outing Sam's Town, this remains the band's biggest hit in the UK, making Number 2 in September 2006.

Jenny Was A Friend Of Mine

This tale of murder was apparently based on a true story and showcases the excellent Killers rhythm section of Mark Stoermer on bass and Ronnie Vannucci Jr on drums. The track leads off the band's debut album Hot Fuss (2004), but actually forms the final part of Brandon Flowers' "Murder Trilogy".

The Man

Hilarious, funky and with a whole stack of attitude, this single was taken from the 2017 album Wonderful Wonderful and was memorably given an airing during The Killers' headline set at Glastonbury 2019.

A Dustland Fairytale

An autobiographical moment from Brandon Flowers, this 2008 track from the Day And Age album concerns the story of his parents, living out in Las Vegas, Nevada.

Human

"Are we human? Or are we dancer?" One of the most perplexing but memorable rhymes in indie history is the focal point of this 2008 classic - but there's a logic behind it, as you can find out here.

Runaways

Flowers and co pay homage to their 1980s heroes with an anthemic fantasy from the 2021 album Battle Born.

Run For Cover

Originally written for the 2008 album Day And Age but left unfinished, this storming tune eventually found a home on 2017's Wonderful Wonderful.