The Killers' Ronnie Vannucci: Prince Harry Is A Great Kisser
15 September 2017, 15:16 | Updated: 20 September 2017, 17:05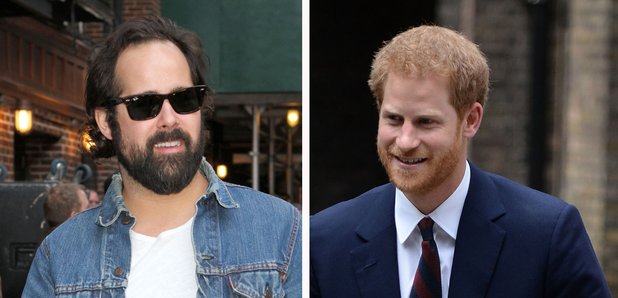 The Run For Cover drummer has opened up about his 10 year relationship with the royal.
The Killers Ronnie Vannucci Jr. has complimented Prince Harry's kissing technique.
Speaking in the latest issue of NME, the drummer has praised the royal, who he describes as "just a dude" he gets along with.
Asked about the reports that he's been jamming with the red-haired Prince, the sticksman joked: "Oh, y'know, he's a great kisser. We became pals 10 years ago. We just get along".
He added: "I knew nothing about the royals, so when I met him he was just a dude. I'm a dude in a band and he's a dude in London."
Asked if Prince Harry's famous naked pool scandal in Vegas was any of his doing, Vannucci Jr. replied: "That was not my fault. I wasn't there for that one."
Meanwhile, The Killers played a show at London's O2 Brixton Academy this week, and had very special guest on stage.
Woody Harrelson joined the Las Vegas rockers on stage during their encore, and gave a monologue ahead of their song, The Calling, which is the ninth track on their forthcoming album.
Watch our video courtesy of Dan O'Connell here:
Brandon Flowers an co. played an epic 19-track set at the intimate gig, kicking-off proceedings with Wonderful Wonderful album tracks The Man and Run For Cover.
Watch the crowds go wild to All These Things That I've Done:
Meanwhile, The Killers will embark on a UK & Irish Tour this autumn, where they'll be supported by Junita Stein and Alex Cameron.
See The Killers UK & Ireland tour dates:
Junita Stein is supporting on the below dates:
Nov 19 2017 - First Direct Arena - Leeds, United Kingdom
Nov 20 2017 - SSE Hydro - Glasgow, United Kingdom
Nov 21 2017 - GE Oil & Gas Arena - Aberdeen, United Kingdom
Nov 23 2017 - Motorpoint Arena Nottingham - Nottingham, United Kingdom
Nov 25 2017 - Sheffield Arena - Sheffield, United Kingdom
Nov 27 2017 - O2 Arena - London, United Kingdom
Nov 28 2017 - O2 Arena - London, United Kingdom
Alex Cameron will support on the below dates:
Nov 06 2017 - Genting Arena - Birmingham, United Kingdom
Nov 07 2017 - Genting Arena - Birmingham, United Kingdom
Nov 10 2017 - Metro Radio Arena - Newcastle, United Kingdom
Nov 13 2017 - Manchester Arena - Manchester, United Kingdom
Nov 14 2017 - Manchester Arena - Manchester, United Kingdom