The Killers Thought The Strokes Were "So Much More Above" Them
25 July 2017, 13:39 | Updated: 25 July 2017, 18:05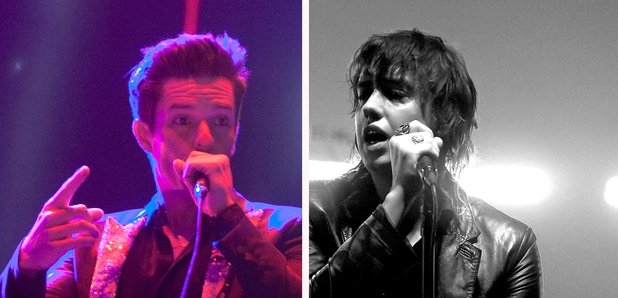 The rockers have responded The Strokes' comments on their early rivalry, and revealed they wouldn't have even put themselves "in the same boat" as the NYC band.
The Killers have revealed they always thought The Strokes were better than them.
Drummer Ronnie Vannucci Jr. has admitted the group didn't put themselves in the same class as their rival band, who both rose to fame in the noughties.
He told NME: "I certainly didn't, and I don't think anybody in the band really would even put ourselves in the same boat.
"We always thought those guys were so much more above us. It's kind of flattering just to hear them talking about our band - even now.
"Especially The Strokes. They're one of the baddest rock bands out there."
Watch The Killers perform Mr. Brightside at their Hyde Park British Summer Time gig:
Vannucci comments were a response to Nick Valensi's revelation in an excerpt of Lizzie Goodman's Meet Me in the Bathroom, where he recalls: "We had conversations that went along the lines of 'Gosh, I think our songs are better than 'Mr. Brightside' by The Killers, but how come that's the one everyone is listening to?'
"They did it a different way. They recorded it in a different way. They promoted it in a different way. We could be that big."
It isn't the first time The Killers have put The Strokes on a pedestal. Last year, frontman Brandon Flowers told the outlet that their Hot Fuss debut had nothing on The Strokes' Is This It.
"If you ask me, The Strokes' debut is better. Guns N' Roses' debut is better," he said before adding, "but I do think we're up there and I'm proud of it."
The Killers might not have rated themselves in the same class as The Strokes, but their recent UK appearances have proved their huge popularity.
Their secret gig at Glastonbury 2017 saw the whole of the John Peel area cordoned off as a record amount of revellers turned up to watch them perform.
Watch them discuss their Glastonbury set with Gordon Smart:
Watch the crowd singalong to Glamorous Indie Rock 'N' Roll at the famous stage:
Despite the band's humility over their success, they were quick to celebrate the fact that they were the only headliner to sell out British Summer Time this year.
Taking time to enjoy the moment, Brandon Flowers pointed out the posters of every British Summer Time headliner, which showed their date as the only one to have a "SOLD OUT" stamp on it.
See them perform Jenny Was A Friend Of Mine at the London festival:
Watch them play Human:
See the crowd chanting "I've got soul, but I'm not a soldier," during All These Things That I've Done: