The Strokes Detail Rivalry With The Killers
16 May 2017, 11:19 | Updated: 16 May 2017, 15:02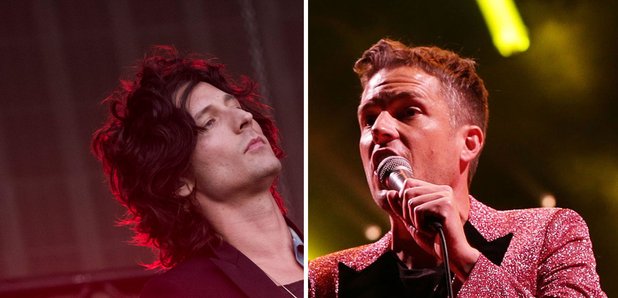 Guitarist Nick Valensi has recalled conversations the Last Nite rockers had about the Las Vegas outfit.
The Strokes have recalled their rivalry with The Killers in a new book.
Nick Valensi has revealed in an excerpt of Lizzie Goodman's Meet Me in the Bathroom that the Last Nite rockers used to compare themselves to the Las Vegas band, and particularly their Mr. Brightside hit.
In the excerpt, the Someday guitarist said: "We had conversations that went along the lines of 'Gosh, I think our songs are better than 'Mr. Brightside' by the Killers, but how come that's the one everyone is listening to?'"
The 36-year-old rocker also admits he thinks the reason they had more success was because they approached everything differently to them.
He adds: "They did it a different way. They recorded it in a different way. They promoted it in a different way. We could be that big."
Meet Me in the Bathroom: Rebirth and Rock and Roll in New York City, 2001–2011 - which details the rise of 2000s NYC bands such as The Yeah Yeah Yeahs, LCD Soundsystem, Interpol and Vampire Weekend - is set for release on 23 May 2017 and available to pre-order here.
Meanwhile, Valensi said in October that The Strokes are in the "early stages" of writing for their first studio album since 2013's Comedown Machine in New York.
At the time, he shared: "We are slowly but surely working on an album. I don't know when it's going to be released, we're kind of just in writing sessions. We're writing. I'm actually in New York at the moment, at a studio in New York for that."
The band - also comprised of Julian Casablancas, Albert Hammond Jr., Nikolai Fraiture and Fabrizio Moretti - unveiled their Future Present Past EP, which included tracks on Drag Queen, Oblivious and Threat of Joy.
At the time, frontman Julian Casablancas hinted that they would tour once their new record came out.
He said: "I don't think there's anything planned, but, I mean, we always do stuff.
"No specific news, sorry. It's never ... I feel like we play every year or two years or something like that. I think the idea was if we can get our stuff together to do a record, we can do more proper tours."
Watch the video for The Strokes' Threat of Joy here: