The Killers: New Bands Aren't Good Enough
24 August 2017, 10:42 | Updated: 24 August 2017, 13:35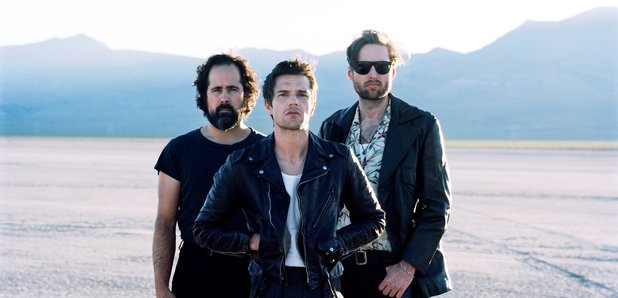 The Run For Cover outfit suggested bands today aren't as popular as The Strokes or Interpol because they don't stand out.
The Killers don't think new bands are "good enough" to gain fans by word of mouth.
When talking about the lack of recognition for new bands, frontman Brandon Flowers told Noisey: "It could happen. But there hasn't been anybody good enough.
"If there was a band like the Strokes or Interpol, people would talk. If there were some kids out there right now playing Obstacle 1 tonight, I would hear about it, you would hear about it. But there isn't."
And drummer Ronnie Vannucci Jr said people are too "quick" to blame technology for what he believes is in fact a drop in quality.
The Smile Like You Mean It sticksman added: "People are very quick to blame a changing of the times for a lot of things, when it's really that they're just not good enough yet."
Yesterday (23 August) saw The Killers drop their cinematic Run For Cover video, which is the second cut to be taken from their forthcoming Wonderful Wonderful album.
Watch it here:
The track follows lead single, The Man, which the band have lent to a recent promo for the Floyd Mayweather vs. Conor McGregor fight this weekend.
The fight will see the UFC star take on the boxing hero at a super welterweight fight at the T-Moble Arena in The Killers' home town of Las Vegas on 26 August.
Watch Brandon Flowers and co. take to a ring to perform the track, which is plonked in the middle of - you guessed it - the Nevada desert:
Brandon Flowers told Rolling Stone why the band took part in the promo, revealing: "I think there's a symbiotic relationship between using a song like ours and Las Vegas and a boxing arena. Business of boxing. It seemed to make sense.
"Oh, you want to use our song? We want to be in a ring too. You know what I mean… and I just wanted an excuse to wear this suit again. Really the main reason."
The much hyped and heavily anticipated fight will air live on the Showtime PPV channel on Saturday 26 August at 4am BST.
The new Killers album, Wonderful Wonderful, includes a song called Tyson Vs Douglas, referring to a 1990 boxing match which saw Buster Douglas KO Mike Tyson. "I realised everything was different after that fight," Flowers explained.
"It sounds like a big statement to make. It really had a profound effect on me."
Flowers recently told Radio X's Gordon Smart about the cover artwork of the single for The Man, which features his son.
Watch our video to find out more: