Elton John is collaborating with The Killers… is this a good thing?
9 February 2016, 16:50 | Updated: 9 February 2016, 17:14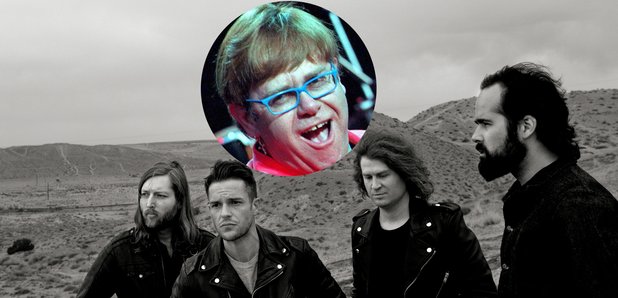 The legendary singer-songwriter has confirmed that he's heading off to the band's hometown to get down to some studio work with Brandon Flowers and co.
"I'm hoping to go to Vegas and write with Brandon for the new Killers record," he told Shazam in an interview. "I'm leaving today. So that'll be interesting."

John's last album, Wonderful Crazy Night was released last week, while it's been a huge four years since the last KIllers album, Battle Born, in 2012.

Is this the end of the "rock" Killers? Or could it be just an unusual diversion for a band that's dipped its toe in the world of glamorous pop muzik over the years?

Brandon Flowers claimed he'd love to work with rock behemoths Muse around the time of Battle Born, but the singer has previously worked with pop acts like Avicii in recent years and Haim and Neil Tennant of the Pet Shop Boys appeared on his solo album The Desired Effect.

Ol' Brandon also popped up last year on a track on New Order's latest album, Music Complete.

We'll just have to wait and see.