WATCH: Brandon Flowers' Kids Give Verdict On First Killers Gig
14 August 2017, 12:06 | Updated: 14 August 2017, 18:31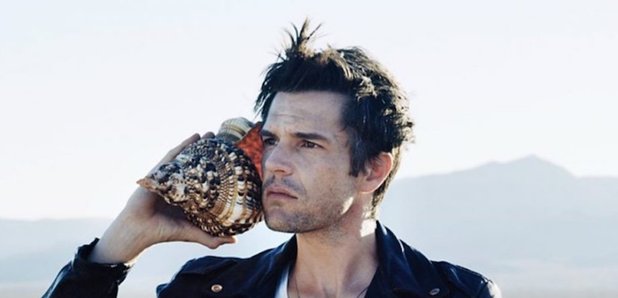 The Killers frontman has revealed his sons saw the band for the first time at London's Hyde Park.
Brandon Flowers' children had never seen The Killers perform until their British Summertime gig in London's Hyde Park.
The 36-year-old frontman has three sons, Ammon, nine, Gunnar, seven, and six-year-old Henry with wife Tana, and though the trio are well aware of their dad's work, they are usually in bed by the time his gigs take place.
Flowers told Q Magazine: "It was the first Killers concert for any of them, even my nine year old. He's been to some solo gigs and seen us do soundchecks, but it's always too late.
"You play at 9pm and they're in bed but they were screwed up on time in the UK so they were staying up later and got to see their first Killers gig.
"They were into it, they know the words to a couple of songs.
"Gunnar fell asleep by the end of the gig, but the other guys held on. They were pretty positive.
"Henry told me, 'I know I've told you this already, Dad, but you did a really good job on your gig.' He's sweet."
Flowers' brood's reaction to their Hyde Park show won't come as much of a surprise to the crowd, who were treated to an epic 19-track career-spanning setlist.
Watch The Killers perform Mr. Brightside at their British Summer Time gig:
See them play Sam's Town anthem, When You Were Young:
It looks like his kids aren't the only big fans of the band, as the rocker's wife, Tana, "sobbed" while listening to Some Kind Of Love on their album.
According to Rolling Stone, the seventh track on their forthcoming LP contains words of support to his wife, "who suffers complex PTSD stemming from childhood traumas."
"It's really emotional," the frontman told the outlet. "I played that for her, and she just sobbed."
SEE THE WONDERFUL WONDERFUL TRACKLISTING HERE:
1. Wonderful Wonderful
2. The Man
3. Rut
4. Life To Come
5. Run For Cover
6. Tyson vs Douglas
7. Some Kind Of Love
8. Out Of My Mind
9. The Calling
10. Have All The Songs Been Written?
Deluxe Edition Bonus Tracks:
11. Money On Straight
12. The Man (Jacques Lu Cont Remix)
13. The Man (Duke Dumont Remix)
The Killers recently announced live UK dates for Autumn 2017, with two extra dates in Birmingham and Manchester added due to popular demand.
See Brandon Flowers discuss the epic response to the band's secret gig at Glastonbury's John Peel stage: