Brandon Flowers: There's A Lot Of False Music Out There
14 July 2017, 10:43 | Updated: 14 July 2017, 11:21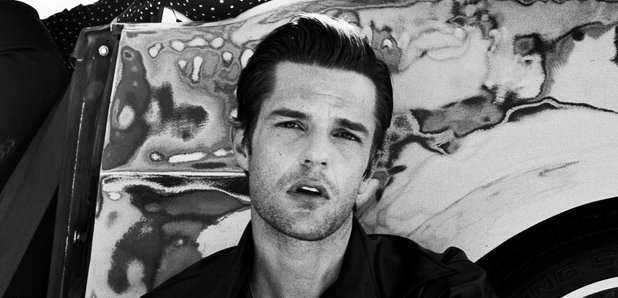 The Killers frontman has slammed "music designed for the non-discerning listener," and vowed their Wonderful Wonderful LP will have substance.
Brandon Flowers insists there is "a lot of false music" around nowadays.
The Killers frontman has hit out at the state of popular music and believes there are too many tunes being released which don't have a lot of substance to them.
He told Billboard: "We've been hearing a lot of false music out there - music designed for the non-discerning listener.
"I wouldn't feel this excited [about Wonderful Wonderful] if the songs weren't true."
The Killers are due to drop Wonderful Wonderful, their fifth studio album, later this year, and the 36-year-old singer is confident the record will be a hit.
He added: "It's always good when you have that satiated feeling, the desire that's quenched, when you have substance behind it. That's when you know you have something."
Brandon recently revealed the group's new single The Man is about the days when the Las Vegas rockers first started out in 2001, and said he's been working on "cleaning up" his image since the early years.
Watch him talk about the track and its artwork to Radio X's Gordon Smart:
The frontman - who has previously admitted to NME tghat he was "arrogant" in the early days of success - said: "Around about the time that The Killers started I guess, - that's where 'The Man' harkens back to, and years after as well."
"It was nice to sort of go in and inhabit that character, and that figure, and that version of myself for much longer.
"I think a good chunk of [the new] album is making peace with that. I've been cleaning it up for a long time. I don't think that was really a great representation, an honest representation of who I am. It came from a place of insecurity and I would just puff my chest out and say things and put a lot of negativity out there. I basically came to regret that and I'm sure a lot of people can identify with that."
The Killers' secret gig at Glastobnury 2017 saw them play the John Peel stage, delighting fans with several of their biggest hits.
Watch them perform All These Things I've Done here:
See them end the set with Mr. Brightside:
Their trip to Somerset was followed by a show-stopping performance at Hyde Park's British Summer Time, which marked their first gig in London for four years.
Watch them perform Jenny Was A Friend Of Mine:
See them play Human:
See the crowd chanting "I've got soul, but I'm not a soldier," during All These Things That I've Done:
Taking time to enjoy the moment, Brandon Flowers cued a picture of every British Summer Time headliner this year, showing their date as the only one to have a "SOLD OUT" stamp on it.
Their penultimate track came in the form of Sam's Town classic, When You Were Young, which you can watch a snippet of below:
Unsurprisingly, their biggest anthem came at the end of the night, leading to a glorious singalong of their Mr. Brightside hit.
See it here:
Going out in style, the outfit brought some Las Vegas glitz to the London gig, which was the fastest-selling show since The Rolling Stones' in 2013, ending their set with a huge fireworks display.
Watch it here:
Meanwhile, The Killers have announced UK tour dates for Autumn 2017, just announcing two extra dates due to popular demand.
SEE THE KILLERS' NEWLY ANNOUNCED TOUR DATES BELOW:
Monday 6 November - Birmingham, Genting Arena
Tuesday 7 November - Birmingham, Genting Arena
Friday 10 November - Newcastle Metro Radio Arena
Monday 13 November - Manchester Arena
Tuesday 14 November - Manchester Arena
Thursday 16 November - 3Arena, Dublin
Friday 17 November - SSE Arena, Belfast
Sunday 19 November - Leeds First Direct Arena
Monday 20 November - Glasgow The SSE Hydro
Thursday 23 November - Nottingham Motorpoint Arena
Saturday 25 November - Sheffield Arena
Monday 27 November - London, The O2
Tuesday 28 November - London, The O2