The Killers: Donald Trump Is Going F***ing Bats**t Crazy
14 September 2017, 13:41 | Updated: 14 September 2017, 18:48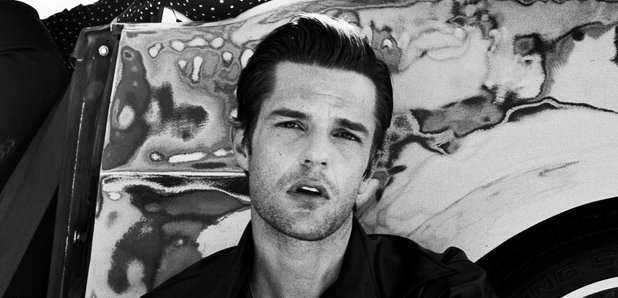 Brandon Flowers and Ronnie Vannucci Jr. have given their thoughts on the temperament of the U.S President in a new interview.
The Killers think that Donald Trump seems "unfit for the job" of President of the United States.
The Run For Cover rockers have discussed politics in a new interview with NME, and shared their distain for Trump's temperament, especially when it comes to his dealings with North Korea.
Asked whether events around them made their music more political, frontman Brandon Flowers told the outlet: "My curiosity might be more piqued and I'm checking the news more often.
He added: "You cannot say you're not affected by politics, it's seeped its way through. It seems inconceivable that Trump is gonna accomplish all of it and it's a bunch of bullshit for lack of a better word. It sounds terrible that this person was elected but I got to believe that he's either gonna get impeached or in three years he'll be replaced by someone better. He's not going to build a wall in three years."
Asked if there's more chance of nuclear war with North Korea, Flowers said: "I hope not, but North Korea have been threatening that even since Obama was there," adding: "It's just now we have someone who's more aggressive than Obama would've been."
Outspoken drummer Ronnie Vannucci Jr. chimed in: "On the surface the guy just seems like a crazy person, he seems totally unfit for the job, he's just going f***ing batshit crazy."
Meanwhile, Woody Harrelson helped The Killers debut a new track at their O2 Academy Brixton show on Tuesday (12 September).
The Natural Born Killers actor joined the Las Vegas rockers on stage during their encore, and gave a monologue ahead of their song, The Calling, which is the ninth track on their forthcoming album.
Watch our video courtesy of Dan O'Connell:
Brandon Flowers an co. played an epic 19-track set at the intimate gig, kicking-off proceedings with Wonderful Wonderful album tracks The Man and Run For Cover.
Watch the crowds go wild to All These Things That I've Done:
During their encore, the outfit also played Sweet Talk for the first time since 2009, before ending with their Sam's Town anthem, When You Were Young.
See their full O2 Academy Brixton setlist here:
1. The Man
2. Run for Cover
3. Somebody Told Me
4. Spaceman
5. The Way It Was
6. Smile Like You Mean It
7. Andy, You're a Star (first time played since 2009)
8. Shadowplay (Joy Division cover)
9. Miss Atomic Bomb
10. Human
11. For Reasons Unknown
12. A Dustland Fairytale
13. Read My Mind
14. Runaways
15. All These Things That I've Done
16. Mr. Brightside
Encore:
17. The Calling(with Woody Harrelson) (live debut)
18. Sweet Talk(first time played since 2009)
19. When You Were Young