Brandon Flowers Pens Heartfelt Tribute To Las Vegas
5 October 2017, 10:30 | Updated: 5 October 2017, 10:46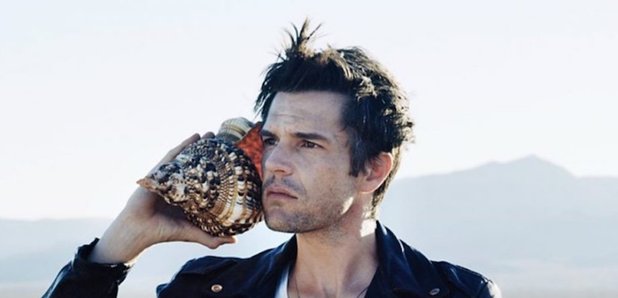 The Killers frontman has shared a dedication to his hometown in response to the horrific mass shooting, which targeted a music festival.
Brandon Flowers has reflected on the Las Vegas mass shooting which targeted a country music festival.
The Killers rocker, who hails from the area, took to the band's official Facebook page to show solidarity with his hometown and to share his shock and devastation at the events, which saw at least 59 killed and hundreds injured.
The All These Things I've Done singer writes: "I'm a Vegas boy. I always have been and—even though I just moved my wife and kids to Utah—I always will be. This past Sunday on a flight home from Australia, I flew over my hometown. Forehead to the window I looked down on Las Vegas and felt a prick of nostalgia. I thought about my mother buried below, I thought about my friends in Henderson, and I even traced Flamingo road down to where it meets the 95 and pin pointed my high school, Chaparral. I could see the city as a whole, but I couldn't look close enough to see what was about to unfold."
He added: "It's hard to believe it's real. My prayers go out to those whose lives were taken and to everyone else affected by this nightmare. I'm devastated for my community and for all of the people who gather together to see live music. Some of the happiest moments of my life have happened at concerts. They are a rite of passage, a holy communion, or just the kind of escape from the stress and the grind of daily life that so many people need.
"My heart swells when I hear the stories of people putting their lives on the line to help each other—defying the stereotypes of what people say Las Vegas is all about. We're all long lost brothers and sisters. I miss my town, I miss my mom, I miss these victims I didn't even know, but I look forward to getting together with you real soon to keep their memory alive. —Brandon".
Flowers' dedication follows The Killers' initial response to the atrocity on Twitter, where they wrote: "We've got heavy hearts. We love you, Las Vegas."
Watch our video here:
Meanwhile, Route 91 Harvest Festival released an official statement responding to the tragedy this week, replacing the line-up on their website with an orange ribbon.
Their statement reads: "On behalf of the entire Route 91 Harvest Family, we are completely devastated by the event that occurred on the night of October 1.
"Our deepest sympathies go out to the injured and the deceased and their loved ones, senseless violence has claimed the souls of our fans and we have little in the way of answers.
"Our eternal gratitude goes out to the LVPD[Las Vegas police department], emergency services, security guards, and fans for their selfless acts of bravery while trying to help those in need.
"While we will try and move forward, we will never forget this day.
"We will NOT let hate win over LOVE.
"We will NOT be defeated by senseless violence.
"We WILL persevere, and honour the souls that were lost.
"Because it matters."