Brandon Flowers "Made An Ass" Of Himself In Front Of Morrissey
20 September 2017, 13:30 | Updated: 20 September 2017, 18:13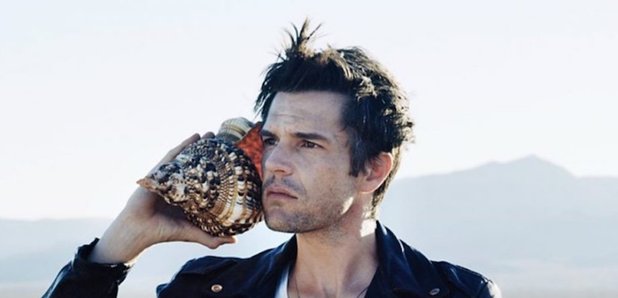 The Killers frontman has recalled spending time in a hotel with the Smiths legend to make up for his embarrassing first encounter as his busboy.
Brandon Flowers has recalled being Morrissey's busboy when he was 18, and revealed how he tried to "redeem" himself with a chance meeting with the Smiths man years later.
"I hung out with Morrissey at this hotel," Flowers revealed in an interview with Yahoo Music. "I came in one night at around 11 and everything was kind of shut down, but there was this one little light in the restaurant. And I grew up just idolizing him. I instantly got excited, obviously, and I ended up getting the courage to introduce myself and stay for a few hours out there with the Moz.
"It was an incredible experience. I was his busboy when I was 18 at Spago in Vegas — served him a mushroom pizza and Earl Grey tea, and I totally made an ass of myself (by saying) 'Mushrooms are really cool.'"
The Run For Cover singer concluded: "So I don't know that I redeemed myself completely with this experience with him, but I tried."
Watch The Killers play All These Things I've Done The O2 Academy Brixton:
Meanwhile, Morrissey launched his official Twitter account and shared his Spent The Day In Bed single this week.
Watch the lyric video for the track here:
Meanwhile, The Killers are preparing to release their fifth studio album, Wonderful Wonderful, this Friday (22 September).
So far they've released The Man and Run For Cover from the new album, as well as new track The Calling-which they debuted at their gig in The O2 Academy Brixton.
Plus, they had a little help from Hollywood A-Lister Woody Harrelson, who read a Bible verse ahead of the their performance.
Find out what happened when The Killers met Natural Born Killers: