WATCH: Liam Fray Loses It At Courteeners Fan Who Throws "Smoke Bomb" On Stage
7 December 2015, 12:42 | Updated: 7 December 2015, 13:46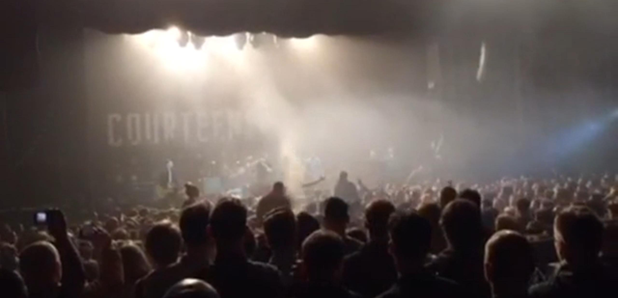 Liam Fray and his band weren't impressed by the missile thrown on stage at their London gig on Saturday.
Courteeners landed at the Kentish Town Forum on Saturday (5 December) for the London leg of their UK Tour, but it wasn't all fun and games for the Manchester band.
Liam Fray and his crew were playing on stage, when an over-excited fan threw a "smoke bomb" towards drummer, Michael Campbell. Thankfully, no one was hurt, but the band took the incident very seriously, calling for the person to be "kicked out".
Watch the moment all the drama unfolded below:
ADULT CONTENT WARNING: This video contains explicit language unsuitable for younger audiences.
Clearly riled, the band stopped the gig, to find the culprit. In the video below, Liam Fray says: "There's just no place for it. It's ridiculous. You're ridiculous."
After some rowdy fans get personal, he adds: "I can't wait for the three or four little tosspots in the front, or that little crowd there giving me the v's. Get on Twitter tonight and give me as much "f**king s**t as you want.
"'Cause I'll still be here playing for two and a half hours with f**king people singing our songs."
After the gig, Liam Fray took to Twitter to defend himself, saying he didn't mind flares but wasn't keen on a smoke bomb being thrown at them.
Don't mind 'em. When someone throws a fucking smoke bomb at me drummer it's a bit different innit. https://t.co/9DmktZeW2a

— Liam Fray (@What_Liam_Said) December 6, 2015
It wasn't a great week for the Middleton band, who had to cancel their gig at London's Shepherd's Bush Empire, due to serious "structural damage"
Sorry but we have a structural issue in our building so will not be open tonight. All @thecourteeners fans, plse hold onto your tix.

— O2 Shep Bush Empire (@o2sbe) December 4, 2015
Liam Fray also wrote a full explanation on his personal Twitter account.
December 4, 2015
The band are still keeping positive, promoting their Christmas single, Winter Wonderland - with all proceeds going to Shelter.