The Tears, The Tantrums, The Lemons: The Best Reactions To The Stone Roses Ticket Sale
6 November 2015, 13:12 | Updated: 11 November 2015, 11:52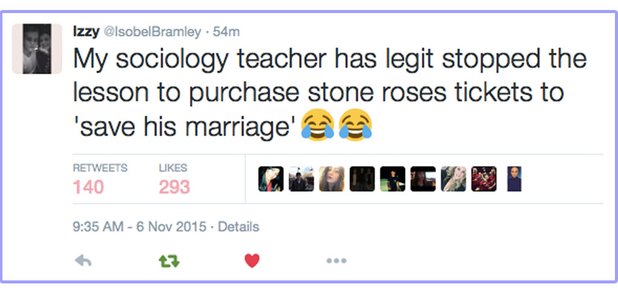 Some fans went to extreme lengths to get a ticket to the Manchester band's gigs at Etihad stadium.
The Stone Roses kicked off the sale of their two dates at Etihad Stadium this Friday (6 November), sending their fans into a complete frenzy.
Friday and Saturday dates sold out in under an hour, but the Fool's Gold band kept us guessing, adding a third and FOURTH date at Manchester City's home ground.
See all the tears, tantrums and lemons as fans shared their reactions online:
A fan used their band tee for good luck:
Time will tell if she is my lucky charm or not! #StoneRosesTickets pic.twitter.com/38r0stIUzA

— Peaches (@ShannonKCrean) November 6, 2015
While a teacher stopped a lesson to buy tickets to "save his marriage".
My sociology teacher has legit stopped the lesson to purchase stone roses tickets to 'save his marriage'

— Izzy (@IsobelBramley) November 6, 2015
Since he didn't get tickets, it's not totally clear yet whether said marriage has been saved. This one seems to be ticking along well though:
Thanks to my amazing wife @CarlyPilkington for my #StoneRosesTickets

— wayne pilkington (@waynepilky) November 6, 2015
This guy felt as lucky as Charlie when he got his golden ticket...
every stone roses ticket holder right now pic.twitter.com/5LJOTKpvWh

— cal (@swimdeepcal) November 6, 2015
When tickets to the first two dates sold out, the touts came out in full force.
Got 2 standing tickets for the stone roses @ the etihad saturday £300 each if anyones interested

— sheeep (@cannyswim) November 6, 2015
But fans weren't too impressed by them hiking up the prices...
People selling stone roses tickets on at 4x the price?? :) :) pic.twitter.com/k3ceJuYm98

— Lucy♡ (@lucy_bennett_) November 6, 2015
In fact, it left a pretty bitter taste in their mouths.
When you're desperate to see stone roses but have to buy off a twatty overpriced seller pic.twitter.com/bHSOAjT0su

— Chloé Maher (@chlohk) November 6, 2015
Then Karma came back to bite them.
Karma when touts stock up on tickets only for a 3rd date to be added. #StoneRosesTickets

— Isaac Nolan (@zacknolan88) November 6, 2015
People were still up for a swap though.
Looking to SWAP my 4x Standing on either Wednesday, Friday & Sunday for any 4x together on Saturday. Let me know #StoneRosesTickets

— DarrenHamer (@DarrenHamer) November 6, 2015
This old-school follower pretty much just used it as an opportunity to gloat.
@IsobelBramley @lucyweir22 26 years late I would say. ;)) pic.twitter.com/Efm4FGbpXx

— Koroviev (@unklemad) November 6, 2015
While another insulted younger fans.
If I don't get #stone roses tickets cos of spotty kids who know 2 songs I am gonna go fucking mental, just saying

— Kirsten (@Kirsten_COYS) November 3, 2015
This punter used the medium of emojis to share their joy...
Got em in the end #StoneRosesTickets

— Jessica Berry (@jessberry65) November 6, 2015
Whereas this guy went to great lengths to explain why he wouldn't be getting them at all...
@thestoneroses why many of your disciples won't be buying #thestoneroses today #StoneRosesTickets #Etihad pic.twitter.com/Q8FueGCfFl

— Ben Courtney (@bencourtney77) November 6, 2015
It didn't stop people getting a ticket though.... and telling us exactly how mashed up they were going to get on the night!
Twitter user Mason Cartwright's reaction video speaks for itself...
My mum buying stone roses' tickets! Watch this video she's hilarious. #StoneRoses #StoneRosesTickets pic.twitter.com/cSPZGJaXIR

— mason cartwright (@masoncartwright) November 6, 2015
Classic.