Reni On Roses Third Album: "I Can't Tell You Anything Because I'll Get My Arse Kicked"
24 March 2016, 11:19 | Updated: 24 March 2016, 11:37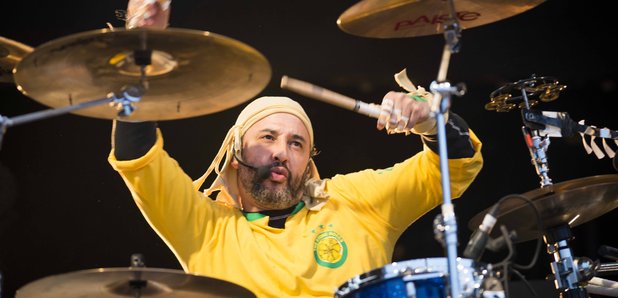 The Stone Roses drummer was caught outside Paul Epworth's studios in North London this week.
The rumours surrounding The Stone Roses recording a third album have reignited this week, after the band and their gear was seen leaving Paul Epworth's famous The Church Studios in Crouch End.
Despite both Mani and John Squire allegedly telling a fan they were just rehearsing, drummer Reni may have just given the game away.
According to NME when asked about the rumours, the 51-year-old said: "I'm recording," before adding: "I can't tell you anything because I'll get my arse kicked".
However, a representative for the band has given no comment.
This follows the drama earlier this month, where Manchester Record store Vinyl Revival teased a "good day for Stone Roses fans".
However, after an announcement failed to come, the record store apologised to the fans, suggesting they had a "genuine reason" to think an announcement was coming and telling them to keep the faith.
To all Roses fans.We had a genuine reason to believe there would be news today and this was not a publicity stunt. #keepthefaith

— vinylrevivalmcr (@VinylRevivalMcr) March 4, 2016
If the rumours are true, it would mean the band's first studio effort in 22 years, following 1989's self-titled album, and 1994's The Second Coming.