The Stone Roses Dropped Their New All For One Single And We All Lost It...
13 May 2016, 10:34 | Updated: 13 May 2016, 11:09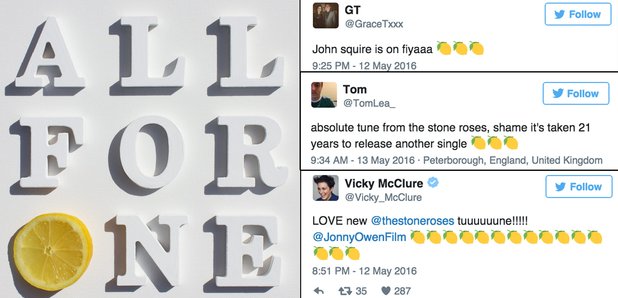 See the best reactions to the Manchester band's first music in over 21 years from fans and celebrities alike.
The Stone Roses released their new All For One single last night, and we all completely lost our minds over it.
After all, we'd only waited a meagre 21 years, five months, seven days and 12 hours to hear new material from the Manchester band... OK, so we don't know exactly how many hours we waited, but it was a bloody long time!
Thanks to Radio X though, you all kept calm and carried on:
#RosesRadioX #RosesRadioX #RosesRadioX - @philclifton pic.twitter.com/tPI5HeH0cQ

— Radio X (@RadioX) May 12, 2016
Social media was awash with our favourite zesty emoji, and absolutely everyone was talking about the single.
From the intro, to the lyrics, to John Squire's epic guitar solo. No Stone was left unturned.
See some of best responses to the new Stone Roses track below:
absolute tune from the stone roses, shame it's taken 21 years to release another single

— Tom (@TomLea_) May 13, 2016
And the stars got involved too. This Is England's Vicky McClure tweeted her excitement after downloading the track:
LOVE new @thestoneroses tuuuuuune!!!!! @JonnyOwenFilm pic.twitter.com/nEJ8V1rxke

— Vicky McClure (@Vicky_McClure) May 12, 2016
The Courteeners Liam Fray proved he was "All For One".
All For One and all that. pic.twitter.com/in7f3NZ95N

— Liam Fray (@What_Liam_Said) May 12, 2016
Football legend Gary Neville had his daughters dressed as lemons:
" little stone roses " pic.twitter.com/x4iqybPZYg

— Gary Neville (@GNev2) May 13, 2016
Everyone was floored by John Squire's guitar skills, which got him trending UK-wide.
@mancalledczar I like it babes have listened to it a few times, john squire is amazing! How about you?

— Raveleigh (@raveleigh78) May 12, 2016
John squire is on fiyaaa

— GT (@GraceTxxx) May 12, 2016
Wish John Squire was me daa

— hinchy (@dmhinchy) May 12, 2016
John Squire

— Andy Hall (@AndrewHall74) May 12, 2016
It got people feeling REALLY nostalgic:
Loving @thestoneroses new single!! Feels like the 90s again

— Jen (@JenFFC) May 13, 2016
Pretty much everyone thought they were music critics, and these lot were quick to draw comparisons.
The stone roses new song...sounds like a mod version of a high school musical song, 'all for one' dinny all throw your lemons at me at once

— Suz (@suzziiee_main) May 13, 2016
New Stone Roses sounds like The Seahorses doing a soundtrack for This Is England '92 #Review

— Greg Bunbury (@BunburyCreative) May 13, 2016
That Stone Roses "All For One" riff, on a better song. https://t.co/WtMSaj7wBl

— Jon Dennis (@JonDennis) May 13, 2016
Listening to the new Stone Roses song but all I'm hearing is the 'it's a small world after all' tune. pic.twitter.com/9voEeXQfFc

— Joe Errington (@JoeErrington) May 13, 2016
Other's just got creative:
@RadioX absolutely loving the new @thestoneroses song! Bring on Etihad gigs next month - will be amazing! #roses pic.twitter.com/Bm5RK6z2mJ

— VSJ25 (@90sIndieGirl) May 13, 2016
Radio X's own Clint Boon's even gave it his seal of approval:
Nice work boys. The world just got better xxx #StoneRoses

— Clint Boon (@therealboon) May 12, 2016
We don't know about you, but after than we fancy another listen to the track.
Listen to the full audio below:
Picture: The Stone Roses Press, Twitter?Vicky McClure/GraceT, Tom Lea