The Stone Roses Kick Off Reunion Tour
11 June 2012, 12:36 | Updated: 14 August 2013, 08:48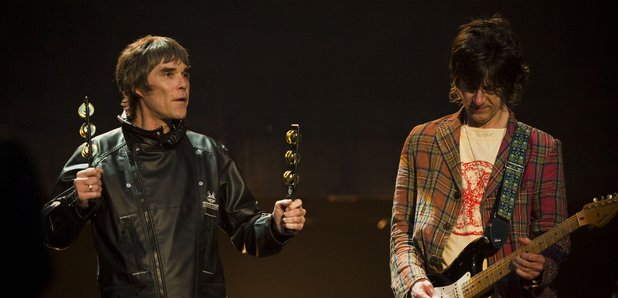 Liam Gallagher is on hand for the band's first "official" show in Spain…
The Stone Roses played the first official show of their reunion tour in Barcelona on Friday.
Following a surprise warm up show in Warrington last month, the band took to the stage at Club Razzmatazz on June 8 to kick off their comeback.
Liam Gallagher and Beady Eye bandmate Gem Archer were in the audience for the first show, which featured the long-awaited return of Fool's Gold and a classic encore in the shape of a ten-minute long I Am The Resurrection. The second night, on Saturday June 9, featured a rare outing for the backwards-tastic album track Don't Stop and the long lost b-side of One Love, Something's Burning.
"It's like 'Quadrophenia' or something," Liam told the BBC. "They're the best band in the world, no question. I followed them around when I was 16 and 17. It's amazing."
Setlist for June 8:
I Wanna Be Adored
Sally Cinnamon
Mersey Paradise
Ten Story Love Song
Where Angels Play
Shoot You Down
Waterfall
Fool's Gold
Standing Here
She Bangs The Drums
Made of Stone
This is the One
Love Spreads
I Am The Resurrection
Setlist for June 9:
I Wanna Be Adored
Sally Cinnamon
(Song For My) Sugar Spun Sister
Where Angels Play
Shoot You Down
Waterfall
Don't Stop
Tightrope
Fool's Gold
Something's Burning
She Bangs The Drums
Made of Stone
Love Spreads
I Am The Resurrection