Has Ian Brown Said The Stone Roses Have Split Up?
25 June 2017, 08:49 | Updated: 25 June 2017, 13:02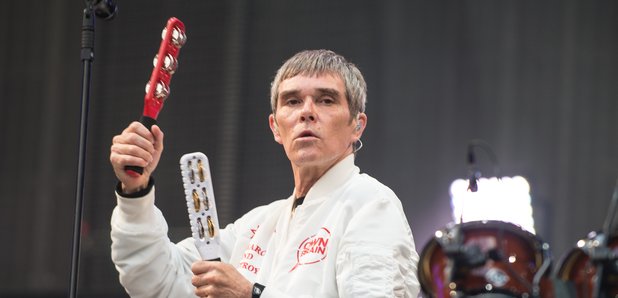 The frontman says "Don't be sad it's over" at Glasgow show…
Ian Brown has suggested The Stone Roses have split up.

The singer sparked concern among fans that the iconic Manchester band have gone their separate ways once more following the end of their current run of UK tour dates.

At the end of their gig in Glasgow's Hampden Park on Saturday (24 June), the singer told the crowd: "Don't be sad it's over, be happy that it happened."
Stone roses saying bye bye?? pic.twitter.com/P9pdBXa8ld

— Callum (@CallumRahman) 24 June 2017

Distraught fans of the band - who split in 1996 before reforming in 2011 - took to Twitter to discuss Ian's comments.

One fan wrote: "I'm actually going into mourning now the Roses have split."
Another posted: "Glad I got to see The Stone Roses twice before they split tonight, still sad though."
"Don't be sad it's over, be happy that it happened" Ian Brown. Hampden Park Glasgow tonight, confirming it's the last ever Stone Roses gig

— Mainly Manchester (@ManchesterDose) 24 June 2017
The Stone Roses are no more. Stop the world I'm getting off.

— Tom (@TomEbbrell98) 24 June 2017

There hasn't yet been any official announcement about the future of the band, who have released two singles, All For One and Beautiful Thing since getting back together.

However, despite being released over a year ago, the group - which also comprises John Squire, Gary 'Mani' Mounfield and Alan 'Reni' Wren - have still not played Beautiful Thing live.

While the group entered the recording studio for their first new album since 1994's Second Coming last year, the record has yet to materialise.

However, their friend Noel Gallagher previously said the band were very excited by their studio sessions and felt the album was comparable to their seminal self-titled 1989 debut LP.

He previously said: "I am very excited, for them mainly. They're going to play some new songs (live). I bumped into Ian in a supermarket recently. He was buying chocolate flavoured shower gel. This is not a joke. He leant in and said, 'Have you tried this?' And I said of course I hadn't. He swears by it, says it's amazing. And before it turned into a photo shoot with everyone and their cameraphones, he was telling me how excited they are by it all. He said it was like they were making their first record again."

When previously asked how the album was coming along, Ian said "glorious" and promised it would be coming out "soon".