Kelly Jones Talks Having "Flashbacks" Of Stuart Cable
9 November 2017, 12:12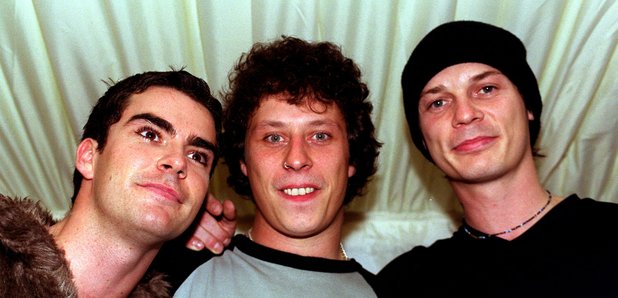 The Stereophonics frontman has reminisced with Radio X's Gordon Smart about the good times with their late drummer.
Stereophonics have shared some of the "flashbacks" and memories about their former bandmate, who sadly passed away in 2010.
Asked at their Cardiff University gig last week if being back in Wales brought back memories of Stuart Cable, frontman Kelly Jones told Gordon Smart: "Around all those bars and pubs, every time you play those songs you get flashbacks going on."
Remembering a classic moment with his bandmate, the Bartender And The Thief singer added: "We played Wembley stadium with Aerosmith - it was the day Wales played South Africa in the rugby, and Stuart was like, 'I can't fucking believe we've got a gig today. It's a big game this is.'
"He went on stage on Wembley Stadium with a portable battery telly by his foot - he was watching the game while playing Wembley Stadium!"
Reflecting on their memories of his ex-bandmate at Cardiff Student Union, long-time bassist Richard Jones mused: "Stuart is a big part of the band, and like Kelly said, we used to come down and watch gigs.
"I remember coming down here once. I borrowed my father's Volvo. And we raced down here to the Student Union."
He added: "There wasn't a gig on. It was just a pound a pint, so we got hammered."
Stereophonics played the venue last week in an intimate gig in aid of Radio X's charity, Global's Make Some Noise.
At the gig last Thursday (2 November), Kelly Jones played the first ever live performance of their Before Anyone Knew Our Name track-a tribute the late drummer.
Watch our clip of the moving performance here:
Addressing the crowd at student union's Great Hall venue, the rocker said: "I've never done this one," before launching into the emotional song with only himself on the piano for accompaniment.
You could hear a pin drop in the crowd, who kept silent throughout the almost five-minute-long rendition.
The performance was followed by impromptu chants from the audience who shouted: "There's only one Stuart Cable" over and over.
Watch the moving moment here:
On the same day as the gig, Stereophonics announced Welsh Stadium dates for Summer 2018.
SEE THEIR 2018 DATES:
Saturday 2 June 2018 - The Racecourse Ground, Wrexham
Saturday 9 June 2018 - Cardiff City Stadium