Kelly Jones Considered Quitting Music After Bataclan & Death Of Idol
6 November 2017, 10:20 | Updated: 6 November 2017, 18:35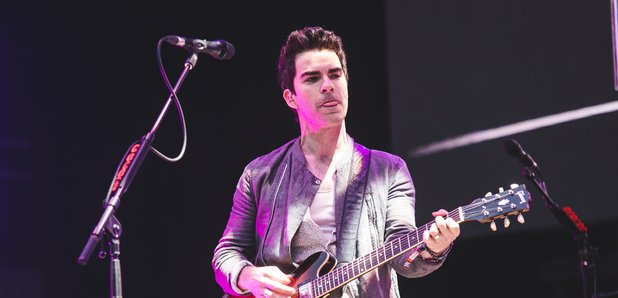 The Stereophonics frontman has revealed that events, including the Paris terror attack, led him to question his career.
Kelly Jones considered quitting music after the death of one of his idols.
The Stereophonics frontman was left devastated by the recent passing of Tragically Hip frontman Gord Downie, who had brain cancer, and he admitted it made him question his own future, something he's been doing since the terrorist attack at Eagles of Death Metal's gig in Paris in 2015.
The 43-year-old star - who has daughters Bootsy and Misty from a past relationship and Riley with wife Jakki Healey - said: "Without Gord I doubt I'd have come out with most of the songs I've written, especially the earlier ones.
"As a performer he was poetry and anarchy all wrapped up in one, and there aren't many who can pull that off.
"In fact, I was talking about this just the other night with Jakki and remembered the time, in '97, when we played a club gig in Toronto - Gord walked backstage with a selection of his favourite books in a brown paper bag for me to read.
"He'd heard we liked his band and just wanted to say hello and share with me some of the stuff that had a big effect on him. That's the kind of bloke he was.
"After what happened at the Bataclan, especially - I just thought, 'Do I really want to be doing all this - spending my time travelling, being away from home?'
"What is more, Gord's death left me wondering - here was a bloke with a huge musical legacy and so many achievements, yet what was it all for?
"Because, at the end of the day, he had a bunch of kids who've now been left without a dad.
"So I questioned whether it's worth putting myself through all that, on top of dealing with the confusion and noise that bombards us all every day."
But the Bartender and the Thief singer has vowed to focus on the positives and not live in fear in order to be a positive role model for his kids.
He added to the Western Mail's Weekend magazine: "But then I realised I can't control the men with the guns and all the s**t that happens in the world, and I tried to tell myself that, yes, despite all the anxiety and the fear, hope and innocence do still exist.
"As a result I struggle hard to show my girls a much more positive outlook than the one I was raised with.
"Because when I was growing up there weren't that many doors of opportunity open to us and the overall consensus was 'you have to make do with what you've got'.
"Not that my family weren't supportive of what I wanted to do, it's just there were a lot of negatives to overcome in order to get a crack at your dreams.
"And it's still like that for a lot of people - that's why my kids are my number priority and, together, we just sort of keep each other grounded and focused."
Last Thursday (2 November) saw Kelly Jones play the first ever live performance of their Before Anyone Knew Our Name track-a tribute to original drummer Stuart Cable who sadly passed away in 2010.
Watch our clip of the moving performance here:
Addressing the crowd at their Cardiff Student Union gig, the rocker said: "I've never done this one," before launching into the emotional song with only himself on the piano for accompaniment.
You could hear a pin drop in the crowd, who kept silent throughout the almost five-minute-long rendition.
The performance was followed by impromptu chants from the audience who shouted: "There's only one Stuart Cable".
Watch the moving moment here:
Stereophonics narrowly missed out on scoring their seventh UK number one with their Scream Above The Sounds record last Friday (3 November).
The Welsh rockers were beaten by Michael Ball and Alfie Boe, who released their Together Again album on the same week.
Speaking to Gordon Smart about the prospect of missing out on the top spot, frontman Kelly Jones said: "Well we've been there all week, and if we get pipped to the post it would be pretty disappointing."
However, the Official Charts Company have confirmed that the band's 10th studio album has become their 10th record to score a Top 10 in the charts.
Congrats to @stereophonics – Scream Above The Sounds is their 10th Top 10 album: https://t.co/QMOAWIZUK7 pic.twitter.com/3g7Li7mFos

— Official Charts (@officialcharts) November 5, 2017