WATCH: Billy Corgan Slams Hashtag Generation, Compares Social Justice Warriors To KKK
20 April 2016, 10:51 | Updated: 20 April 2016, 10:52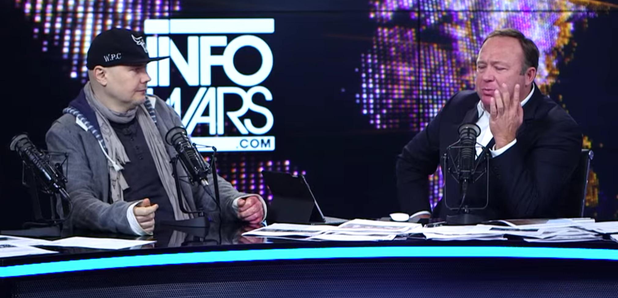 The Smashing Pumpkins frontman appeared on radio host and conspiracy theorist Alex Jones' show.
Billy Corgan has hit out at Social Justice Warriors (SJWs) comparing them to the KKK and labelling them as a Maoist Cult.
The Smashing Pumpkins frontman appeared on conspiracy theorist Alex Jones' radio show, where he slammed the loss free speech in America, and took aim at SJWs and those who control social media in particular.
Social Justice Warrior is a pejorative term for people who express socially progressive views, support disenfranchised groups and often call for "safe spaces" which silence offensive language.
However, according to Pitchfork Corgan has labelled them as a "a cult", adding "the only thing that's going to adjust their ideological fixation is reality".
Watch clips of the episode below:
Tackling the topic of free speech in more detail, the Ava Adore singer said: "It's a cult. And the only thing that's going to adjust their ideological fixation is reality. I predict that this hashtag generation–look, for everyone that's out there spinning their little New Year's toy in your reporter's face–and I've watch those clips and I'm horrified as somebody who believes in free speech and is an artist, because those people are gonna be coming for me."
"Let's face it. It may not be tomorrow, but it's soon enough because I said the wrong thing on the wrong day because I was tired and I didn't take my [Xanax] that day, or whatever. You know what I mean? It's like, to live like that, to live where every word is a landmine... it's not the world I want to live in."
Corgan went onto compare SJW to the Ku Klux Klan, saying: "If you could go back to Selma [in Alabama] 1932, and the Klan member spitting in some person of colour's face, don't you think that guy thought he was right, too? So how is this any different?"
"I was there growing up at the time when they let the KKK march down the street, and what was the big issue? It was a free speech issue. We don't like it. They're thumbing in our nose but, you know what, it's better to have an America where these idiots get to walk down the street and spout their hate."
"That's the world I grew up in, a liberal, Democratically-leaning Chicago that was about tolerance and free speech, not 'shut it down because it's unpleasant'".
The singer also confirmed he was still working on his biography, entitled God Is Everywhere, From Here to There, but progess is "slow".