Billy Corgan Responds To Sad Disneyland Photo With Rant
30 July 2015, 11:19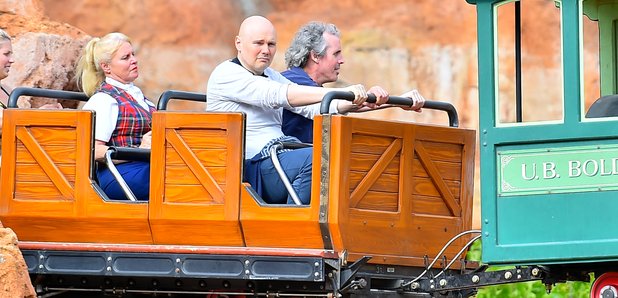 This hilarious photo of the Smashing Pumpkins frontman looking miserable as he sits on a rollercoaster spread around the web - and now Corgan has fired back at people who made fun of him.
(Image courtesy of Splash)
The shot was taken at Disneyland and showed Corgan looked sad and gripping the safety bar tight on the Big Thunder Mountain ride. The kid-friendly rollercoaster is suitable for ages 7 and over.
Corgan responded to the Twitter storm with a rant during a Q and A that didn't directly address the photo but did take aim at his critics.
"I literally had somebody say to me the other day, I think it was at DisneyLand: 'Hey, you don't seem that into this.' I was like, 'I'm at fucking Disneyland. I just want to hang out at Disneyland. I'm not here to do a meet and greet, I'm here to be at Disneyland.'
"You know what I'm saying? But it's almost like, 'Well you're here, and I'm here, and because I'm on my vacation, your vacation, you're part of my vacation.' It's like, I'm not working, and I wasn't being unpleasant, I wasn't being rude. I was taking pictures with people, I took a picture with every person that asked. But then it gets into, what's in your head? Like, you're not smiling enough, or you don't seem to be enjoying – and I'm like, what the fuck do you want from me?
"That's when it gets like, are you paying me? On whose dime are we on here? Because we have so much celebrity culture that is servile, 'I'll say whatever you want. I'll make sure I take just the right selfie so I look better than I really look.' I don't want any part in that, that's not interesting.
"So if that means one person has to walk away and go, 'He's doesn't seem like he's in a good mood,' and they never go to a show again, I mean, they're not really a fan, so that's just the way it goes."
Thanks for clearing that one up Billy.