When Billy Corgan & Marilyn Manson Sang Girls Just Wanna Have Fun...
17 March 2018, 07:00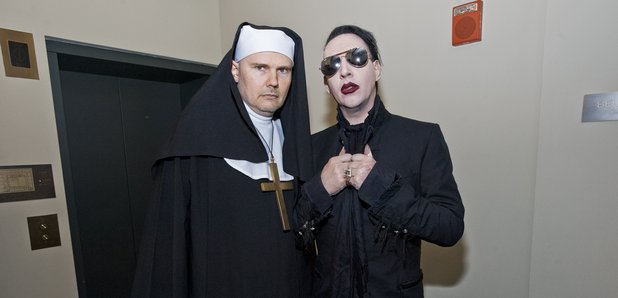 Celebrate Billy Corgan's 50th Birthday by watching this bizarre on-stage collab.
Today marks Billy Corgan's 50th Birthday, and we're celebrating the unconventional rocker by looking back at one of his wackiest ever performances.
Back in 2015, The Smashing Pumpkins frontman was on a joint tour with the mOBSCENE rocker, and one fateful night saw the pair sing Girls Just Wanna Have Fun.
While in Nashville, Corgan helped the Tainted Love star perform his Antichrist Superstar track, before they broke into an impromptu rendition of Cyndi Lauper's karaoke favourite.
Watch them in action from 4:00 onwards.
There is no denying those two are definitely having fun.
Corgan is also dressed as a nun throughout the performance, which ramps up the wacky factor significantly.
It wasn't always that way for the Smashing Pumpkins frontman, though, who in 2015 went viral after being papped while looking sad at Disneyland.
Corgan, in his typical style, replied to the unwanted attention with a rant.
Photo credit: Timothy Hiatt /Stringer