Billy Corgan Confirms He's Back In Touch With Original Smashing Pumpkins Members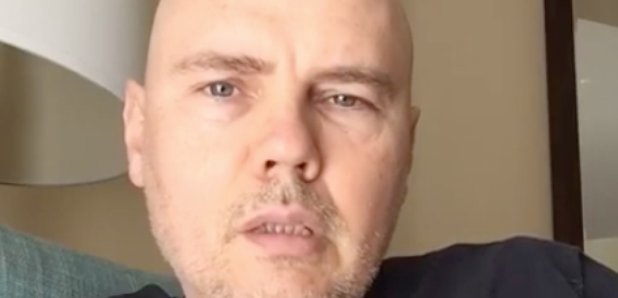 The Smashing Pumpkins frontman has confirmed that he's "in communication" with the original line-up of the Chicago grungers.
Speaking on Facebook last night (Wednesday 17 August) from Orlando, Florida, where he's currently working on his latest wrestling project, Corgan felt "compelled" to address recent rumours that the classic set up of Corgan, bassist D'arcy Wretzky, guitarist James Iha and drummer Jimmy Chamberlain were going to tour after the frontman said the band had "big plans" for 2017.
Addressing the rumour-mill, Corgan claimed he "didn't want people speculating about something that's got nothing to do with what's really going on."
He went on: "First off, we're back in contact again, the band. I've been in communication with D'arcy again for the first time in about 16, 17 years. It's awesome to have my friend back. So we're all in communication."
However, he outlined the fact that his main interest was in having a good relationship will all his former bandmates again, for personal and business reasons. The past few years had seen Corgan tour under the Pumpkins name with a new band, but Chamberlain has recently rejoined the live set-up. Iha has guested with the group on several occasions earlier this year.
He claimed: "Of course, when you get to the point where you're in communication, and the relationships are good again and there's a good vibe, people around you who know what's going on, start saying, Oh is the band getting back together?
"We're not at that point and I think that's a good thing. We're not rushing to something, we have to, of course, repair some things between us. We have to see what's out there for us, and if those opportunities are even there."
The last time all four members performed live together was in California in 1999. Chamberlain had been fired three years previously, following an incident where he suffered a heroin overdose while touring the Mellon Collie album. Touring keyboard player Jonathan Melvoin died from a fatal OD the same night, but Chamberlain returned after receiving treatment for his addiction. Wretzky was replaced by Melissa Auf Der Maur, before the band split for the first time in 2000.
Here are the band in their 1995 prime.
However delicious the reunion rumours sound, Corgan warned: "We're not interested - nor have we ever been interested - in going out to play just because there's a big stack of money there.
"If the band should ever be again in that form - in some iteration because obviously there's other people involved - then it would be about music.
"So speculate away! That's a good speculation, but that's coming from me, not some anonymous source."