John Lydon Calls For Resignation Of Arsene Wenger
9 March 2017, 10:00 | Updated: 16 April 2017, 23:07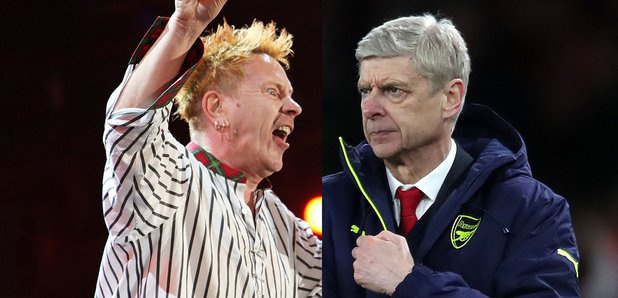 The Sex Pistols legend said he'd rather Arsenal "drop a league" than see the French man stay as manager.
John Lydon has revealed he wants Arsene Wenger to resign.
The Sex Pistols legend - who's also a lifelong Arsenal fan - has weighed into the criticism surrounding his team's long-term manager, after their poor results, which included a 10-2 aggregate defeat to Bayern Munich in the Champions League.
In an interview with Gigwise, the PiL frontman said: "He's been there so long now that there seems to be no way of getting rid of him. He's so deeply embedded and entrenched in the bureaucracy of the club that it seems impossible to pull him out of there".
The Finsbury Park- born rocker added: "I'd rather drop a league than continue with him. It's mediocre and it's unfair to us fans. I'm Arsenal for life and as far as I'm concerned managers can come and go, just like them superstar players who demand too much money.
"Fuck 'em all! Remember: it's a game but it's a game to be enjoyed and that's been missing for a few years over there."
Meanwhile, Lydon is preparing to release his Mr Rotten's Songbook- a book which will feature 40 year's worth of lyrics, and include original artwork by the punk star.