Royal Blood's Mike Kerr Thinks He Broke A Rib At Their Brighton Gig
26 April 2017, 16:42 | Updated: 26 April 2017, 16:59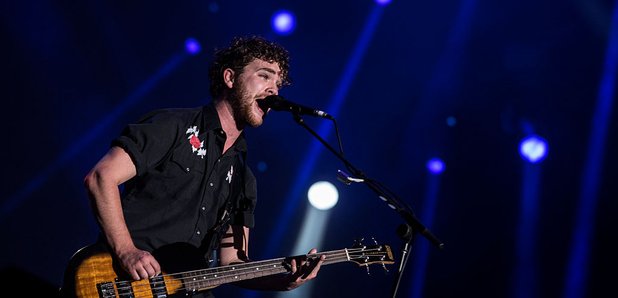 The Lights Out rocker told Radio X how their first show in 18 months left him with an injury.
Royal Blood's Mike Kerr reckons he broke a rib at the band's Brighton show.
Speaking to Radio X the day after their secret homecoming gig at the Concorde 2 on Monday (24 April), the Lights Out rocker said: "We had our first show in Brighton last night.
"First gig we'd had in 18 months, which was great, but I ended up falling off the drum riser and I think I've broken my rib."
The Figure It Our singer added: "But yeah, apart from that, I'm feeling strong."
The duo gave tracks from their forthcoming How Did We Get So Dark? album their live debut, playing Where Are You Now?, I Only Lie When I Love You, She's Creeping and their new Lights Out single.
Kerr's recent scrape isn't the only ailment he's had onstage either, as the duo recently revealed they were "hospitalised twice" after touring their first album and that their sound man had to have a testicle removed.
"We didn't get any sleep," Kerr told NME. "We all ended up ill and we all got hospitalised twice. Our sound guy lost a testicle ..."
The Ten Tonne Skeleton singer added: "What I will say is that he had it surgically removed and that night mixed the show. Drugged out. And I don't think it ever sounded so good."
Royal Blood's sophomore album, How Did We Get So Dark?, is set for release on 16 June 2017.
See Royal Blood's setlist for Brighton Concorde 2, Monday 24 April 2017:
Where Are You Now? (first ever performance)
Lights Out (first ever performance)
Figure It Out
I Only Lie When I Love You (first ever performance)
Come on Over
She's Creeping (first ever performance)
Little Monster
Hook, Line & Sinker
Loose Change
Encore:
Ten Tonne Skeleton
Out of the Black
Royal Blood have announced a UK mini-tour for May, with tickets going on sale on Friday 28 April at 9am:
17 May - Cambridge Corn Exchange
18 May - Newcastle O2 Academy
19 May - Southampton O2 Guildhall
20 May - Leicester O2 Academy