Royal Blood's Mike Kerr: Brad Pitt High-Fived Dad At Glasto Set
23 October 2017, 20:00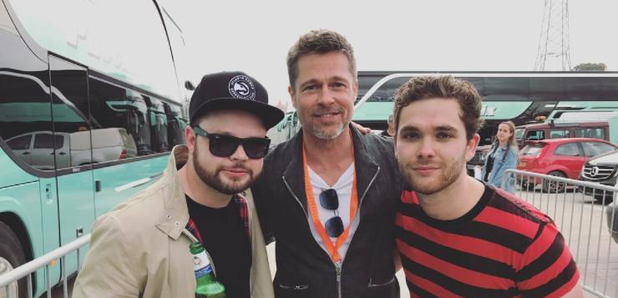 The Lights Out duo have recalled their landmark moment at the festival to Gordon Smart during their intimate session in the Radio X studio.
Royal Blood have recalled their Glastonbury 2017 set, telling Radio X how "nuts" it felt.
Asked about playing Friday afternoon on the Pyramid Stage - where they stopped their set to toast scoring their second No.1 album -frontman Mike Kerr said: "My internal dialogue was like 'Fuck, fuck, fuck, fucking fuck.'
"And I think there was a point in the set when we kinda just looked at each other like, 'Let's do this.'"
The Lights Out singer added: "It was nuts. Brad Pitt was standing with my parents. So I'm like playing thinking this is mad, then I look there and I'm like, 'what?' (He's there) like high-fiving my dad... and it was nuts."
The Brighton duo also posed for a picture with the Hollywood A-Lister at the festival, joking: "Congratulations to our competition winner - William Bradley Pitt."
Asked if it was nerve-wracking playing in front of Metallica drummer Lars Ulrich, fellow sticksman Ben Thatcher replied: "No. He's come to a few shows so I feel quite comfortable playing and being with him.
"It's just like having your drum teacher there."
Watch Royal Blood's "fairly mild" highlights of 2017 so far:
Watch this lady's awesome reaction to getting Royal Blood tickets, courtesy of her son-in-law @johnjtomlinson:
Lead photo credit: Photo: Instagram/RoyalBlood