Ronnie Wood Refused Chemo So He Didn't Lose His Hair
7 August 2017, 12:19 | Updated: 7 August 2017, 17:43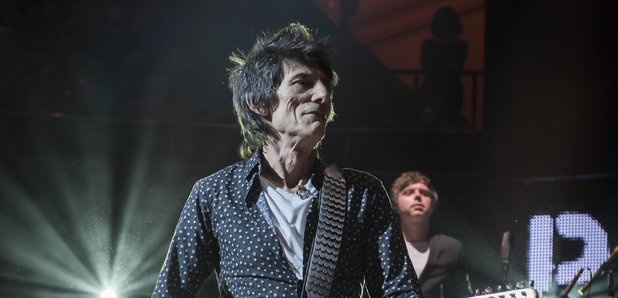 The Rolling Stones guitarist has opened up about his cancer diagnosis, and revealed why he didn't opt for the treatment.
Ronnie Wood has opened up about a recent lung cancer scare which led him to undergo surgery.
Speaking in an exclusive interview with The Mail on Sunday's Event magazine,The Rolling Stones rocker revealed: "I've had a fight with a touch of lung cancer."
He added: "There was a week when everything hung in the balance and it could have been curtains – time to say goodbye. You never know what is going to happen.
"I was prepared for bad news but I also had faith it would be OK. Apart from the doctors, we didn't tell anyone because we didn't want to put anyone else though the hell we were going through. But I made up my mind that if it had spread I wasn't going to go through chemo, I wasn't going to use that bayonet in my body".
Asked if he was concerned the chemo wouldn't work, Wood replied: "No. It's more I wasn't going to lose my hair. This hair wasn't going anywhere. I said, "No way." And I just kept the faith it would be all right."
Luckily for the Paint It Black rocker - who quit smoking before the twins he shares with Sally Humphries were born in 2016 - the cancer hand't spread and was able to be removed with surgery.
Though he still gets regular checks, Wood will be joining his Rolling Stones bandmates on tour this year.
Watch the band's teaser trailer for their 2017 No Filter Tour: