PHOTO: See Mick Jagger And Skepta In The Studio Together
10 July 2017, 16:24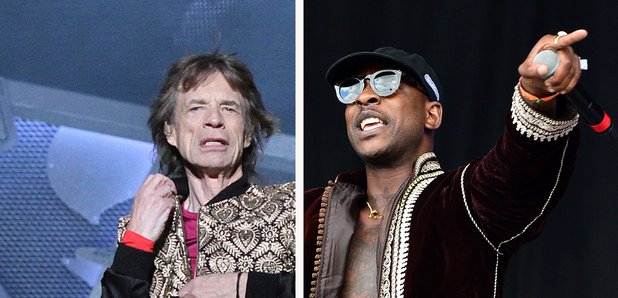 Has the grime star just teased a collaboration with the The Rolling Stones legend?
Mick Jagger has been snapped in the studio with Skepta.
The Grime star shared a photograph of himself with The Rolling Stones rocker, which sees the pair both deep in thought or perhaps listening to music.
The picture is simply captioned: "@skeptagram and @mickjagger in the studio. Photo by @shaneaveli (sic)"
It's not yet known whether what they are working on is for a Rolling Stones album or Skepta's next offering, which may not be out for some time.
The 34-year-old rapper - whose real name is Joseph Junior Adenuga - previously he is more focused on protecting the planet than preparing material for the follow-up to 2016's critically-acclaimed Konnichiwa.
The Shutdown star told NME at the Ivor Novello Awards, where he won songwriter of the year: "I haven't been working on my next album at the moment, but what I have been doing is working on how I'm gonna do good for what's happening on Earth at the moment. At every stage of my life, I've always wanted to do good for Earth. When I was a kid I used to stop bullies. I'd get so angry when I saw people being bullied I'd be like 'stop doing that to him!'"
Meanwhile, The Rolling Stones will reportedly earn £2 million from a new record.
The veteran rockers reportedly had their contract renewed by Universal, and Mick Jagger and guitarist Keith Richards have been working on new music in recording studios in London and New York.
The group - which also includes Charlie Watts, 76, and 70-year-old Ronnie Wood - are reportedly planning to release a live compilation album in time for this Christmas, and then a new studio LP will follow to coincide with the end of their upcoming European tour.
A source said: "Both Mick and Keith would rather be carried off stage in a coffin than give up their great love - writing and making music.
"They were experimenting in the studio earlier this year, and everything just gelled. They ended up with around 15 tracks which they have cut down to album-length, and when the label execs heard it they were thrilled.
"Age is no barrier to brilliant music, and there is no doubt the new stuff will sell."
Meanwhile, the Paint It Black rockers are set to embark on their No Filter tour in September.
Watch their tour trailer here:
SEE THE DATES FOR THE STONES' NO FILTER EUROPEAN TOUR 2017:
9 September - Hamburg, Germany - Stadtpark
12 September - Munich, Germany - Olympic Stadium
16 September - Spielberg, Austria - Spielberg at Red Bull Ring
20 September - Zurich, Switzerland - Letzigrund Stadium
23 September - Lucca, Italy - Lucca Summer Festival-City Walls
27 September - Barcelona, Spain - Olympic Stadium
30 September - *Amsterdam, Holland - *Amsterdam ArenA
3 October - *Copenhagen, Denmark - *Parken Stadium
9 October - *Dusseldorf, Germany - *Esprit arena
12 October - *Stockholm, Sweden - *Friends Arena
15 October - *Arnhem, Holland - *GelreDome
19 October - *Paris, France - *U Arena
22 October - *Paris, France - *U Arena
*The Rolling Stones concerts in Amsterdam, Copenhagen, Dusseldorf, Stockholm, Arnhem and Paris will be under cover with a roof facility at each stadium.