Keith Richards Threatened Donald Trump With A Knife, Says Tour Producer
22 March 2016, 13:18 | Updated: 22 March 2016, 13:30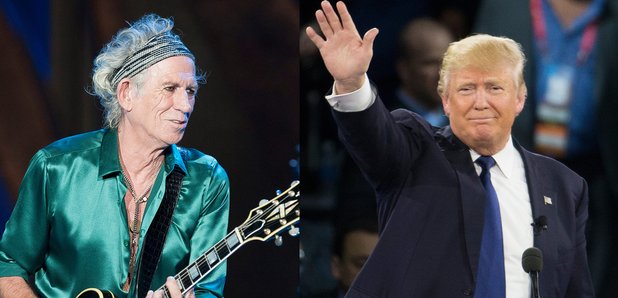 The U.S Republican candidate allegedly riled up The Rolling Stones guitarist.
A tour producer has claimed that Keith Richards threatened Donald Trump with a knife 27 years ago.
In a speech unearthed by The Independent, Michael Cohl told the story about the band's pay-per-view show at Atlantic City during their 1989 Steel Wheels tour, where he had to "fire" Trump in his own building because he refused to stay away from the band.
Talking at a keynote event for Pollstar Live! last year, he recalled: "I run to the press room in the next building and what do you think is happening? There's Donald Trump giving a press conference, in our room!
"I give him the [come here gesture]. 'Come on, Donald, what are you doing? A) You promised us you wouldn't even be here and, B) you promised you would never do this.'
"He says, 'But they begged me to go up, Michael! They begged me to go up!' I say, 'Stop it. Stop it. This could be crazy. Do what you said you would. Don't make a liar of yourself.'"
After being called back to the room several times, Crohl then described the occasion where Keith Richards allegedly took his knife out.
He continued: "They call me back, at which point Keith pulls out his knife and slams it on the table and says, 'What the hell do I have you for? Do I have to go over there and fire him myself? One of us is leaving the building – either him, or us.' I said, 'No. I'll go do it. Don't you worry.'
The Rolling Stones, Keith Richards and Donald Trump have yet to comment on the claims.