The Rolling Stones and The Vaccines donate items to charity auction
23 March 2014, 06:00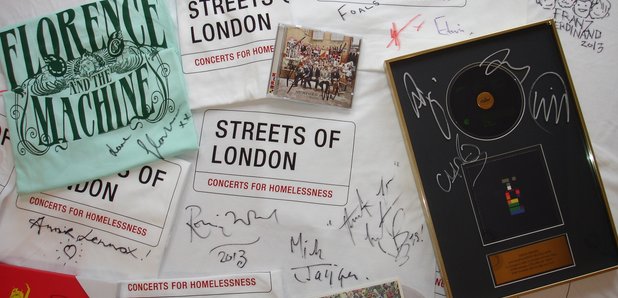 More than 30 acts, including The Rolling Stones, Biffy Clyro and The Vaccines, have donated items to raise money for homelessness charity Streets of London.
Items include a framed presentation disc signed by the members of Coldplay, Screamadelica canvas artwork signed by Primal Scream, and a Streets of London T-shirt signed by Mick Jagger, Ronnie Wood and Charlie Watts of The Rolling Stones.

"We're delighted to support Streets of London and their wonderful work helping London's homeless," Ronnie Wood said.

The eBay auction is up and running now and lasts until Sunday 30 March.

Justin Young from The Vaccines said: "After the bad weather of the last few months, more than ever is it easy for me to appreciate just how tough and awful living on the streets without structure and support is. And I think whatever people can do to contribute to making the lives of those people easier goes an incredibly long way."

Streets of London puts on live events, including annual charity concerts, giving music fans the opportunity to see big-name acts performing in intimate venues. The proceeds fund support for homeless people in the capital, ensuring they receive the advice and supportive guidance needed to move forward with their lives. The charity also works to increase general understanding about homelessness, challenging preconceptions and stereotyping.

Find out more at the Streets of London website.