PHOTO: Flea & Former RHCP Guitarist John Frusciante Reunite
31 July 2018, 11:54 | Updated: 31 July 2018, 11:57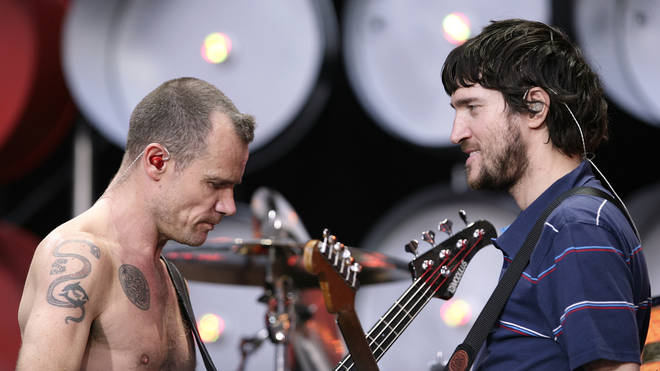 The Red Hot Chili Peppers bassist was spotted at a boxing match with the band's former guitarist this weekend.
Flea and John Frusciante made Red Hot Chili Peppers fans very happy when they were spotted together recently.
The Californication bassist and the band's former guitarist appeared in public for the first time in over a decade this weekend and were pictured together watching a boxing match in LA's Staples Centre.
See them in a snap shared on Red Hot Chili Family's Facebook page:
John and Flea enjoying some boxing tonight at the @staplescenterla this makes me happy. Look at them smile at each other. ❤️ #johnfrusciante #flea #rhcp #redhotchilipeppers #staplescenter

Posted by Red Hot Chili Family on Saturday, 28 July 2018
Their public reunion, which Ultimate Guitar claims is the first image taken of the pair since 2011, made Chili Peppers fans old and new very happy to see them.
One fan commented: "my favorite pair of friends in the world," while another wrote: "I couldn't care less if John never returns to the band but it absolutely fills my heart with joy that these two are friends again!"
John Frusciante first joined the Red Hot Chili Peppers at just 18 years old, following the death of Hillel Slovak in 1988 due to a heroin overdose.
Watch Red Hot Chili Peppers play Fire with original drummer Jack Irons as a tribute to Hillel Slovak on the 29th anniversary of his passing:
Frusciante went on to battle his own heroin addiction, which - after leaving the band in 1992 - almost almost cost him his life.
Despite re-joining the band in 1998 and going on to release Californication, one of their most commercially successful albums in 1999 followed by By The Way (2002), Stadium Arcadium (2006) was to be the last album he recorded with Anthony Kiedis and co. 
Since his official departure from the band in 2009, the guitarist never looked back, but one Redditor gave fans fresh hope when he had the chance to talk to him last year.
In the account, wesleyredhot claims he spoke to the rocker and quizzed him on whether he'd ever re-join the band.
He then revealed his response, noting: "He said that destiny made him fall in love with other things that made him distance himself from a Rock Band, but in the end he completed that one day he might come back, he just thinks it's still far from happening but it's a possibility for one day maybe."
Watch the evolution of Red Hot Chili Peppers below: