Red Hot Chili Peppers' Flea Reckons Rock Is Kinda Dead...
23 May 2016, 13:09 | Updated: 23 May 2016, 13:20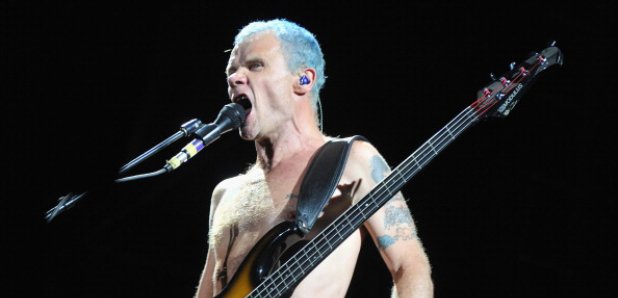 The Chilis bassist spoke with Pearl Jam's Mike McCready about the state of rock music today.
Flea has referred to rock music as "a dead form".
As reported by Alternative Nation, the Red Hot Chili Peppers bassist has talked to Pearl Jam's Mike McCready about the differences in becoming a rock star now and when their bands started out.
Reminiscing about touring with Pearl Jam and the Smashing Pumpkins in the 90s, he said: "It was just an exciting time for rock music."
He added: "A lot of the time, especially recently, I look at rock music as kind of a dead form in a lot of ways. Nothing to take away from us and you, because obviously I believe we're relevant bands that came with a fucking real energy.

"But if you're a kid today, and you get in a rock band, it's like – when we were kids, when I said I want to be in a rock band and that's what I'm doing for my life, and that's what I was going to do and there was no question. You'd get: 'You are a fucking lunatic, you are crazy. You're never going to get a decent job in your life. What are you doing? You're ruining your life.
"And I was like 'fuck it, I don't care, this is what I want to do, this means everything to me, I found a home.'"
Comparing it to making the same choice today, he said:"But nowadays, you decide you want to be in a rock band it's like: 'Oh great, let's get you an image consultant, and a lawyer, and a manager, and let's see what we can do here. It's a great money making opportunity for you junior.'"
Listen to their full conversation below:
Red Hot Chili Peppers interview with Mike McCready (2016/05/17) from Tchefuncte Bonaparte on Vimeo.
Do you agree with Flea? Enter out poll below:
Flea might think rock is becoming a dead artform, but the Chilis are very much alive and well, preparing to release their eleventh studio album, The Getaway, on 17 June.
The funk rockers are also set to play T in The Park and Reading & Leeds festival this summer.
Speaking to Radio X about their upcoming UK festival dates, Chad Smith said: "They're legendary festivals and we're honoured to be a part of those, so we'll be playing our heart out."

The drummer also confirmed that Anthony Kiedis was "on the mend" following a serious bout of stomach flu this month.