Flea: Red Hot Chili Peppers' UK Tour Will "Elevate And Uplift"
29 August 2016, 07:00 | Updated: 30 August 2016, 15:37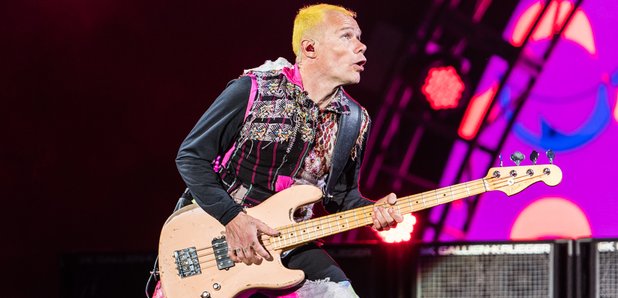 Plus, he promises you'll "dance like a wildebeest" to support act Babymetal...
Red Hot Chili Peppers' Flea has been explaining how the band's upcoming British shows will be something special.
The Chili Peppers have just announced their first UK tour in five years, taking in London, Glasgow, Birmingham and Manchester this December.
Speaking to Radio X's Sunta Templeton before the band took to the stage at Leeds Festival, the bassist explained how the band were constantly pushing themselves to be better.
He said: "[On this tour] I just want to elevate, uplift myself, sweat blood and channel the mighty powers that govern all of us.
"Anything that we do, every show that we play, every note that we that we do in any context, I always feel like I'm just scratching the surface of what's possible.
"What's the point of living if you're not trying to get better at it? It's my mission. Our lives will be over in a flash and I hope to use mine as meaningfully as I can."
Flea also revealed he was excited about the prospect of touring with the all-female Japanese rock trio Babymetal.
"They're banging, the band is really great, they're awesome," said Flea. "We saw them play at a festival in Japan and it seemed like it would be fun to have those funny girls with us, rocking out.
"All I really want from any band is: make me feel like I've never felt before. Do something to me, I want to feel like it's dangerous, or make me feel like I'm floating into the ether, or dance like a wildebeest, just do something to me.
"It's become more and more rare to get that unique feeling. With Babymetal, it was a 'what the hell's going on' kind of feeling!"
Tickets for the UK shows go on general sale on Friday 2 September from 10am.