Has Chad Smith Hinted RHCP Could Retire From Touring?
11 July 2017, 15:55 | Updated: 11 July 2017, 17:34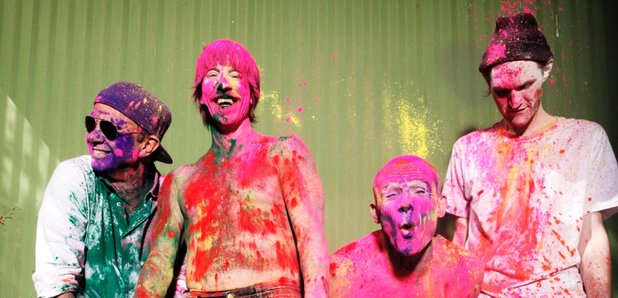 The Red Hot Chili Peppers drummer has admitted he doesn't know how long the band can last doing lengthy tours.
Chad Smith has suggested that Red Hot Chili Peppers may not have that much longevity when it comes to being on the road.
As reported by Blabbermouth, in an interview with SiriusXM, the Dark Necessities drummer revealed: "We were riding in a van after a gig and Flea was like, 'How much longer do you think we should ... How do you think we should end this?'
"I was, like, 'I don't know!' I want to make records, I still love making records, but the touring part... I don't know if we can continue."
"I mean, three of us are 54 years old -- Anthony, me and Flea. Josh [Klinghoffer, guitarist] is 38 or 39, so he's a young man. But I don't know if we can continue to do the long tours -- the year, year and a half we normally do."
The Californication rockers also have families to think of and don't like being away from their children for too long.
The Under The Bridge sticksman continued: "We all have families and different things, your priorities shift a little bit. You kinda see that what's gonna work for you maybe doesn't necessarily work for other bands.
"But again, we're just so grateful that people want to come and see us play, and we love to perform. I don't know in the future how that's gonna look."
Anthony Kiedis and co. may be getting older, but it doesn't stop them from being an every day superheroes.
Back in June 2016, the RHCP frontman told Chris Moyles how he came to save a baby's life after shooting James Corden's Carpool Karaoke.
Watch him explain what happened here:
Meanwhile, at the beginning of this month RHCP reunited with their original drummer, Jack Irons, to pay tribute to the late Hillel Slovak who died 29 years ago to the day.
Addressing the crowd, Flea explained: "Actually another founding member of our band Hillel Slovak died this day 29 years ago, and his spirit will always live on.
"Before we play this next song, if you want to give him just a moment of silence, that would be really beautiful".
Hillel Slovak, who formed the band with Anthony Kiedis and Flea at school, tragically died from a heroin overdose on 25 June 1988.
Watch the moment they performed the Jimi Hendrix track - which features on their Mother's Milk album - courtesy of Chili Peppers World here: