Red Hot Chili Peppers' Anthony Kiedis: "I Miss John Frusciante"
7 July 2016, 14:35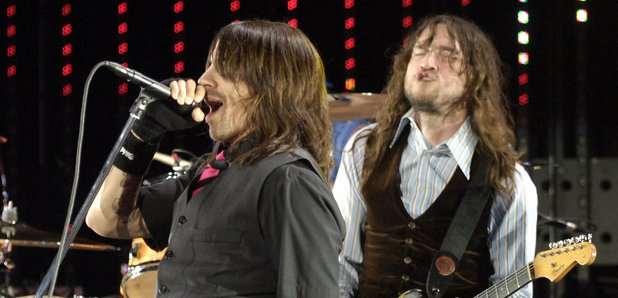 The Chilis frontman has talked about the musical chemistry he had with the former Chilis guitarist.
Anthony Kiedis says he misses John Frusciante.
As reported by Guitar World, the Red Hot Chili Peppers frontman spoke to a Argentinian television programme, La Viola, about the chemistry he had with the band's former guitarist.
Asked if he missed Frusciante, Kiedis said: "I miss him, but I also accept the separate lives. But I miss him."
Watch the interview uploaded by a fan on YouTube, below:
Speaking about his former bandmate - who was later replaced by Josh Klinghoffer - Kiedis added: "My experience with John was one of the most wonderful and easiest people to make music with.
"We could sit down on the floor, John and I, and I could take out a piece of paper, and I would say, 'Okay, I wrote these words.'
"And he would like [say], 'Let me see those words,' and he would take take the words, he would read them, and he's like, 'Okay.' He would start to play something, I would start to sing it, and I would say, 'Can you play something that feels like this?' And he would say, 'Okay, let me try this.' Then we would have a song.
"Never did I meet someone who was so easy to write songs with, and really good songs."
Frusciante - known for his signature style on the Chili Peppers biggest cross-over albums, including Blood Sugar Sex Magic - officially quit the band in 2009.
According to Rolling Stone, the Zephry Song star broke the news on a "no drama" Myspace blog post, writing: "To put it simply, my musical interests have led me in a different direction."
Meanwhile Kiedis and the band - who have recently released their The Getaway album - will headlining T in The Park festival this weekend, closing the Scottish festival on Sunday 10 July.
Watch the video for their lead track, Dark Necessities, below: