So Anthony Kiedis Was A Huge Fan Of Gavin And Stacey...
30 August 2016, 11:29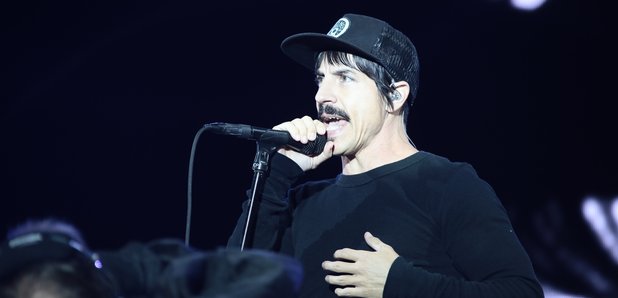 The Red Hot Chili Peppers frontman has praised James Corden, who he believes has the makings of a "true artist".
Anthony Kiedis has revealed his love of Gavin and Stacey, and praised its writer James Corden, for having the makings of a "true artist".
The pair clearly hit it off during Red Hot Chili Peppers' Carpool Karaoke earlier this year, but it turns out the RHCP frontman is a bigger fan of the British presenter than we thought.
Speaking to The Sun ahead of their headline Reading Festival slot last weekend, the Dark Necessities singer shared his admiration for Corden, revealing: "I got turned onto him years before he ever came to America with Gavin & Stacey. I was a Gavin & Stacey guy. I watched it on the Internet."
Talking about the British presenter's talents, he gushed: "James has got the making of being a true artist.
"He started off as a musical artist before he became a comic, actor,talk show dude.
"He sings beautifully and the look on his face when music happens – he's raptured with passion about melody and lyrics. He's the real deal."
He concluded: "I haven't jammed with him. I don't know what that would be like, but there's something very special about him."
Watch them in Carpool Karaoke below:
James might be multi-talented, but we're not sure if he's saved anyone's life just yet, unlike Anthony Kiedis - who revealed he had helped revive an infant on the Chris Moyles Breakfast Show.
Speaking about the incident, which occurred during the filming of James Corden's Late Late Show segment Kiedis said: "A woman came out of her house holding a child, saying 'my baby, my baby, my baby can't breathe!'
"We all ran across the street. The lady thrust the baby into my arms. The baby was not breathing."
He continued: "I thought, 'i'm going to try and do a little baby CPR real quick to see if I can get some air into this kid.
I tried to open the mouth. (It was) locked shut. So I started rubbing the belly, bubbles started coming out of the mouth, the eyes rolled back into place. The ambulance showed up and I handed the baby over who was breathing and fine."
Watch him describe the incredible event here:
Last week, Red Hot Chili Peppers announced a UK tour for the end of this year, where they will play shows across the country for the first time in five years, including two dates at London's O2 Arena.
With James Corden recently stepping onto the stage to sing Prince's Nothing Compares 2 U with Coldplay, perhaps we can expect to see him make an appearance with the Chili Peppers too?