Airport Security Mistook Red Hot Chili Peppers For Metallica & Still Made Them Sign Merch...
11 July 2016, 09:43 | Updated: 12 July 2016, 13:25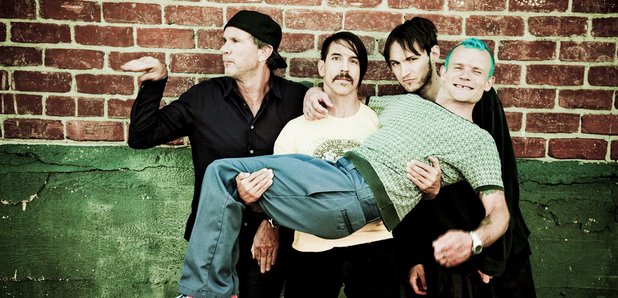 Flea shared the incident with his followers on Instagram.
Red Hot Chili Peppers were mistaken for Metallica by custom officials at Belarus airport.
The Californian funk-rockers, were travelling through the country when they were called into an office by airport staff, who wanted their autographs.
The trouble is, they seemed to think they were Metallica, and -despite being told otherwise - had Metallica merchandise ready for them to sign anyway.
See Flea's picture below:
As the Dark Necessities bassist explained: "We were called into customs officials office at an airport in Belarus and they asked us to sign a bunch of Metallica cd's and photos. We tried to explain to them that we weren't Metallica but they insisted that we sign anyway. They had the power. Well I did play fight fire with with with Metallica once. I love Metallica anyways but I'm no Robert Trujillo."
The Chili Peppers should have no such problem when flying from Scotland, after playing a triumphant 17-song-set at T in the Park last night (Sunday 10 July).
Their career-spanning performance included everything from the likes of Under The Bridge and Can't Stop, to new tracks Dark Necessities and a live debut of their Goodbye Angels track - from their latest The Getaway LP.
See their setlist below, courtesy of setlist.fm:
1. Intro Jam
2. Can't Stop
3. Snow ((Hey Oh))
4. Scar Tissue
5. Dark Necessities
6. If You Have to Ask
7. Nobody Weird Like Me
8. Otherside
9. Look Around
10. The Getaway
11. Universally Speaking
12. Go Robot
13. Under the Bridge
14. Detroit
15. By the Way
Encore:
16. Goodbye Angels -(Live debut)
17. Give It Away