RHCP's Flea shares video urging US fans to vote in mid-terms
6 November 2018, 17:35 | Updated: 7 November 2018, 13:51
The Red Hot Chili Peppers bassist has asked his followers on Instagram to "please vote for humanity".
Flea has shared a video urging is American fans to vote in the US midterm elections.
Today (6 November) sees the citizens across the pond vote for members of both chambers of Congress and governors in 36 of 50 states.
The Red Hot Chili Peppers bassist took to social media to undertake their constitutional right.
Watch his video above, which was shot by his 13-year-old daughter and shared on his official Instagram account @flea333.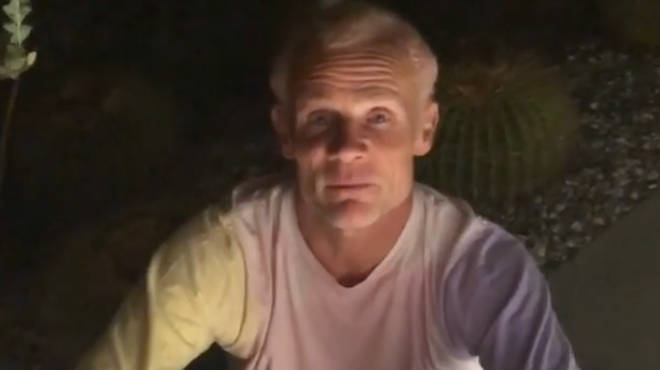 Looking straight into the camera, the By The Way bassist said: "Here I sit on the outskirts of Los Angeles with my dogs at my feet, getting filmed by my beautiful 13-year-old daughter.
"And looking at my daughter, as much as I embarrass the hell out of her, I think about this planet and how much I want it to be a healthy, beautiful place to be when she's as old as I am-an old fart."
He added: "Please vote in people that will treasure our planet. Please vote for people who will treasure our children, so that they all may get good healthcare, so they all may get a good education regardless of how much money they have.
"Please vote for humanity. Please vote with love. Please vote with kindness, I beg you. I humbly beg. I love you, thank you".
Not content to ask his fans to vote, the Dark Necessities rocker shared a video of his "workspace" reminding his fans to register for the election last month.
Meanwhile the Chili Peppers have revealed that new music is on the way.At New York Fashion Week, Kiedis told the NY Post that the veteran band will be heading into the studio in "about two weeks".
The new record - their twelfth studio album - will be the follow-up to 2016's The Getaway, which spawned the singles Dark Necessities and Go Robot.
That LP was produced by Danger Mouse, who replaced the Chili Peppers' long-term collaborator Rick Rubin after a quarter of a century.
Watch the evolution of Red Hot Chili Peppers here: