RHCP's Flea Writes Powerful Essay On Addiction & Opioid Epidemic
27 February 2018, 14:32 | Updated: 27 February 2018, 14:44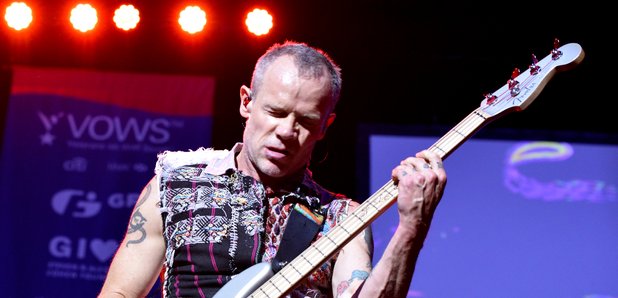 The Red Hot Chili Peppers bassist has opened up about his struggle with addiction and warned about prescription painkillers.
Flea has written an essay about drug addiction and criticised healthcare professionals who prescribe prescription painkillers.
In a new piece written as part of TIME magazine's project The Opioid Diaries, the Dark Necessities bassist - whose real name is Michael Peter Balzary - reveals all about his past struggles with addiction, and how he's managed to stay clean since 1993.
The essay, entitled "The Temptation of Drugs Is a Bitch," begins: "I've been around substance abuse since the day I was born. All the adults in my life regularly numbed themselves to ease their troubles, and alcohol or drugs were everywhere, always.
"I started smoking weed when I was eleven, and then proceeded to snort, shoot, pop, smoke, drop and dragon chase my way through my teens and twenties."
Referring in part to the loss of Chilis guitarist Hillel Slovak to a heroin overdose in 1988, he added: "I saw three of my dearest friends die from drugs before they turned 26, and had some close calls myself.
"It was a powerful yearning to be a good father that eventually inspired a sense of self-preservation, and in 1993 at the age of 30 I finally got that drugs were destructive and robbing my life force. I cut them out forever."
However, smashing many myths around addiction, the Under The Bridge bassist suggested it's a constant battle, adding: "Once you've opened the door to drug abuse, it's always there, seducing you to come on in and get your head right."
After opening up about his own crippling struggle and his periods of "horrific anxiety," Flea took the opportunity to take aim at irresponsible doctors and healthcare professionals who get people hooked on opioids.
"Many who are suffering today were introduced to drugs through their healthcare providers," he said. "When I was a kid, my doctor would give me a butterscotch candy after a checkup. Now, they're handing out scripts."
He added: "There is obviously a time when painkillers should be prescribed, but medical professions should be more discerning."
TIME's The Opioid Diaries sees photographer James Nachtwey and deputy director of photography Paul Moakley travel across the US to capture images and gather stories on the frontline of America's opioid epidemic.
Watch the Red Hot Chili Peppers and former guitarist Jack Irons pay tribute to their late guitarist Hillel Slovak to mark 29 years of his passing:
See Chili Peppers World's full video here:
Lead photo credit: Bryan Bedder/Getty Images for Bob Woodruff Foundation