Red Hot Chili Peppers' Flea enjoys gig night with daughter Sunny
23 November 2018, 11:49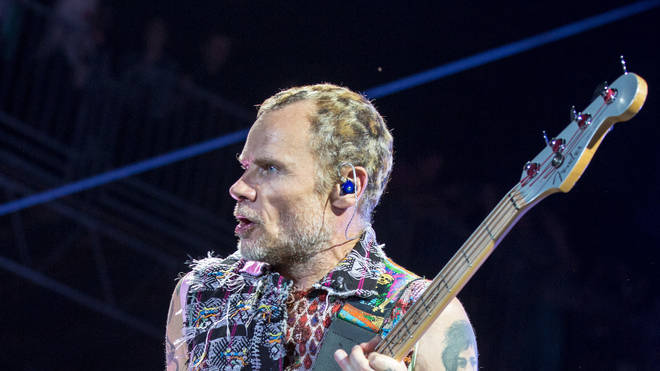 The Under The Bridge bassists accompanied his daughter to a Billie Eilish gig, and praised the singer.
Flea has captured the moment he attended a gig with his daughter Sunny this week.
The Red Hot Chili Peppers bassist and his 13-year-old watched US singer-songwriter Billie Eilish play The Fonda Theatre in Los Angeles, California, and Flea was quick to celebrate the milestone.
Posting a selfie with his youngest child, he wrote: "Me and Sun whoopin it up at the Billie eilish concert. There comes a time when a youngster stops buying into the pop bullshit the corporate demographic people are dishing out, and starts to connect with music that is being expressed from someone's unique and mysterious heart."
See his image below:
The Can't Stop rocker added: "Billie eilish is that mysterious heart for sunny. I'm totally down for Billie Eilish, the girl is for real. And @finneasoconnell too! Viva Los Angeles!"
It's not the first time Flea - whose real name is Michael Balzary - shared his daughter's love of music with the world.
Last month the Dark Necessities rocker shared an Instagram story of himself messing around with her while she sang in the car.
Unfortunately their duet was cut short due to their phone falling off the dashboard, but the 14-second clip was enough to prove the apple doesn't fall far from the tree when it comes to music.
Watch them below:
Earlier this month, Flea was filmed by his daughter as he urged his American fans to vote in the US mid-term elections.
Looking straight into the camera, the By The Way bassist said: "Here I sit on the outskirts of Los Angeles with my dogs at my feet, getting filmed by my beautiful 13-year-old daughter."
And looking at my daughter, as much as I embarrass the hell out of her, I think about this planet and how much I want it to be a healthy, beautiful place to be when she's as old as I am-an old fart."
He added: "Please vote in people that will treasure our planet. Please vote for people who will treasure our children, so that they all may get good healthcare, so they all may get a good education regardless of how much money they have."
Please vote for humanity. Please vote with love. Please vote with kindness, I beg you. I humbly beg. I love you, thank you".
Watch the evolution of the Red Hot Chili Peppers: