Thom Yorke's Airbag Lyrics "To Be Auctioned For Oxfam"
23 February 2016, 11:19 | Updated: 23 February 2016, 11:24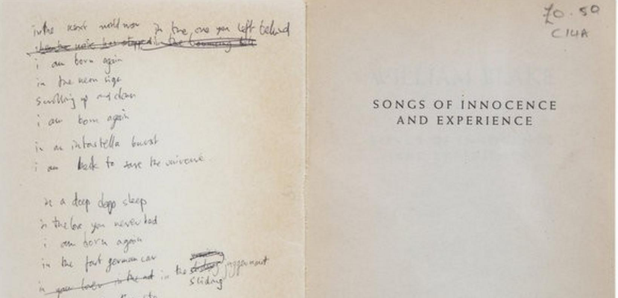 The original lyrics for Radiohead's Airbag were found in a donated copy of William Blake's collection of poems.
A book which contains lyrics written by Thom York is reportedly set to be auctioned for Oxfam by Dreweatts & Bloomsbury Auctions on 18th March.
Earlier this year, the original draft of Radiohead's Airbag was found in a copy of William Blake's Songs of Innocence and Experience, which the Radiohead star donated to an Oxfam bookshop in Oxford's St. Giles.
Amazing #charity shop find - Blake paperback with Thom Yorke's handwritten lyrics discovered https://t.co/0tujKnjILB pic.twitter.com/EybunSxOMS

— Charity Bank (@CharityBank) February 19, 2016
Now, according to UK Fundraising, the book is now set to be auctioned off for the charity.
The website also added Yorke underlines words and annotates the margins of the book throughout, especially on the poems Nurse's Song, A Cradle Song and The Divine Image.
Airbag, from the album OK Computer, is said to have been penned by Yorke after being in a car crash with his girlfriend in 1987.
Listen to it below: